more news
Business Plan Contest Cultivates Students' Entrepreneur Skills
Tuesday, December 13, 2011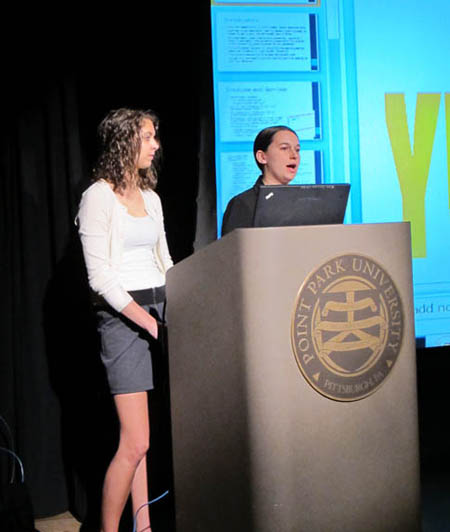 Business Plan Contest winners Alison Zawinski and
DanielleBerkebile present their proposal for
"YUMMY! cards."

Finalists of the fourth annual Business Plan Contest presented their entrepreneurial ideas to a panel of judges on Dec. 7 in the University Center's GRW Theater.
The contest is hosted by the School of Business every fall semester and is open to all students taking the Introduction to Business course.

This year, several groups of students participated in developing a business plan, with two advancing to the final round of competition.
"The skills I learned will assist me in establishing a business from the ground up," said business management major Brandon Flournoy.
The winning concept was "YUMMY! cards," developed by Danielle Berkebile, a business management major and Alison Zawinski, a biotechnology major.
Berkebile and Zawinski offered a fun alterative to traditional greeting cards proposing a plan to make and sell customizable, edible cards.
"I really enjoyed exploring all the different possibilities and potential that our product could have, then actually creating the YUMMY! cards and seeing our vision come to reality," said Zawinski. "In biotechnology, you may want to want to start your own lab to conduct research. There is a possibility that you can develop your own product or technique and then patent it. I think that it is important to know how to budget, manage employees, and sell your products."
Students in the first place team each received a $100 gift certificate to the Point Park bookstore while second place team members were awarded a $50 gift certificate.
"Both groups had great business ideas. Danielle and Alison were selected as the winners because they had limited their scope and had a clear plan for start up," said Elaine Luther, D.Sc., professor of business management and founder of the Business Plan Contest.
Learning business planning skills and presenting to an audience was helpful for accounting major Herman Johnson. "I plan on having my own CPA firm so this will definitely come in handy," he said.

Zawinski recommends every student - not just business majors - take the Introduction to Business course. "So much in our world revolves around business and it's important to be aware of that fact and to know how businesses operate," she said.
2011 Business Plan Judges
Helena Knorr, Ph.D., assistant professor of organizational leadership
J.W. Tabacchi, director of student activities
Second Place Team
"Parental Informative Investigators: Keeping Families Together Through a Private Eye" -- Marcus Christian, Brandon Flournoy and Herman Johnson
Photo Gallery: 2011 Business Plan Contest