more news
Business Professor and MBA Graduate Are Among Authors of New Book About Pittsburgh's Engineering Triumphs
Friday, September 28, 2018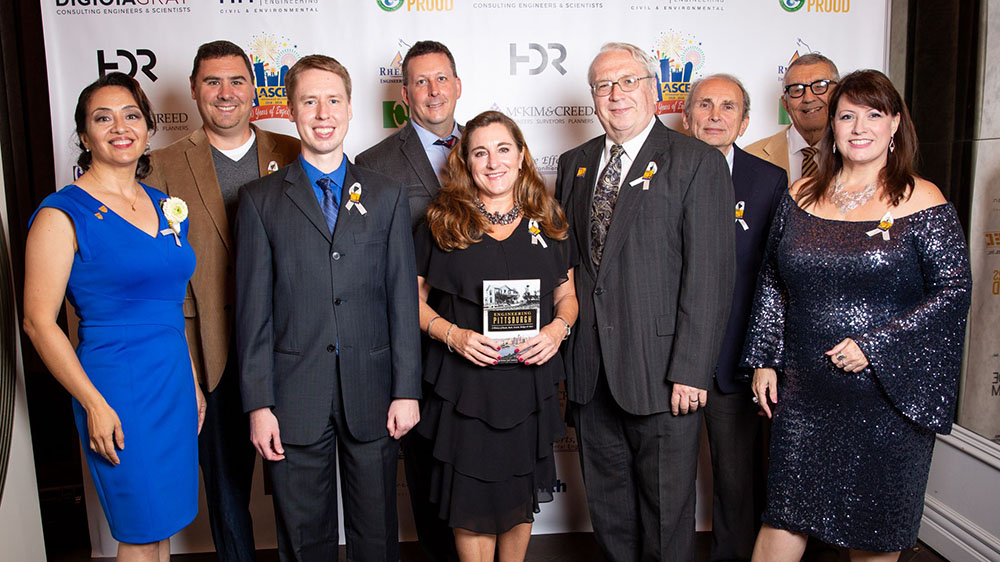 Authors of the book, Engineering Pittsburgh, are pictured at the 100th Anniversary of the American Society of Civil Engineers – Pittsburgh Section event at Kimpton Monaco Hotel in Downtown Pittsburgh. (Mulvihill and Wilson are pictured on the far left).
Patrick Mulvihill, D.Ed., and 2017 on-site MBA alumnus Todd Wilson, P.E., are among the authors of the new book, Engineering Pittsburgh: A History of Roads, Rails, Canals, Bridges & More.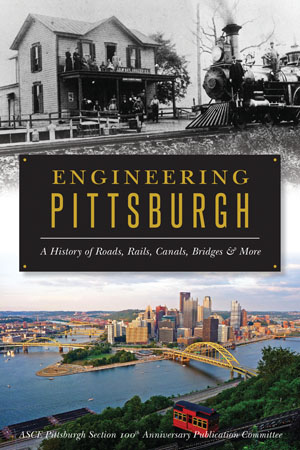 Sixteen civil engineers and professionals collaborated on this publication, which celebrates the centennial anniversary of the American Society of Civil Engineers Pittsburgh Section.
The authors of this book narrate the story of Pittsburgh and the surrounding region's civil engineering triumphs including the development of bridges, ground transportation systems and airports that linked Pittsburgh to the world.
"The early airfields, pioneering spirit, and sense of adventure woven within the region of Western Pennsylvania, and Pittsburgh specifically, played an integral role during the early days of aviation and powered flight," said Mulvihill, who wrote a chapter for the book titled "Aviation."
He added: "As a pilot, the opportunity to join a group of talented professionals to illuminate the history behind the transportations systems that connected Pittsburgh to the world was an exciting project to be a part of."
According to Wilson, who authored the chapter on bridges, one of the most popular questions about Pittsburgh's engineering is "How many bridges does Pittsburgh have?"
"In counting Pittsburgh's bridges, the book details not only how the number can change year to year, but it really depends on what is considered a bridge. For example, while the Smithfield Street Bridge is certainly a bridge, should Point Park's bridge over Wood Street count? Or what about the new bicycle bridge that connects the Smithfield Street Bridge to the Monongahela Wharf? According to the book, depending on how the reader wants to define a bridge, Pittsburgh has anywhere from 350 to over 700," Wilson explained.
Mulvihill is an assistant professor and chair of the business management department in the Rowland School of Business at Point Park University. He is also co-host of Take the Hill, a leadership podcast series.
Wilson is an award-winning senior project civil engineer for GAI Consultants, Inc., and has authored several books about Pittsburgh. He was named a "New Face of Civil Engineering by the American Society of Civil Engineers" and a "40 Under 40" honoree by Pittsburgh Magazine.
Mulvihill and Wilson, along with the other chapter authors, will be participating in local speaking engagements in the near future.
More About: M.B.A., alumni, Rowland School of Business, faculty research, Downtown Pittsburgh, faculty, on-site M.B.A.