more news
Catalysts for Change: M.A. Leadership Students Create Workshops to Improve Communities
Monday, January 11, 2016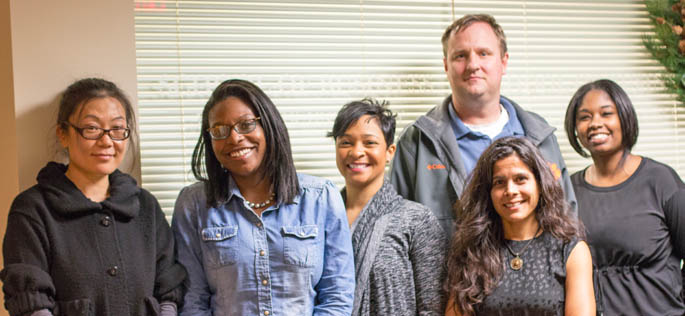 Helena Knorr, Ph.D., (second from right) is pictured with graduate students (left to right) Wanying Kang, Danielle Hardy, Christina Spearman, Jason Ballard and Chalese Floyd.

School of Business Associate Professor Helena Knorr, Ph.D., believes class projects should create positive change and extend beyond the classroom and into the community.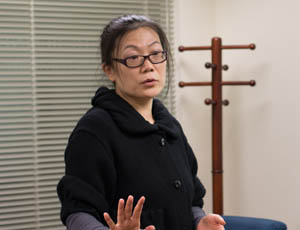 Kang presents her workshop to Knorr's interpersonal
communication class.
That's why Knorr asked students taking her interpersonal communication class in the Master of Arts in leadership program last semester to develop workshops, for their final projects, that add value to the local community.
"Class projects can be used as services to make our communities thrive. In turn, we become more accountable as co-creators of that change," remarked Knorr.
Knorr's students developed community workshops centered on the following topics: personal branding, interview skills, team building and learning how to say no to others.
Graduate students Chalese Floyd and Danielle Hardy went to The Pittsburgh Project office Dec. 10 to present their workshop titled "Preparing for Your Future Success: Personal Branding and Interview Skills," to high school students.
"Chalese and I worked directly with the YouthWorks program to develop our workshop. This program offers disadvantaged youth in Greater Pittsburgh with employment and career development opportunities so they become work ready and career focused," explained Hardy.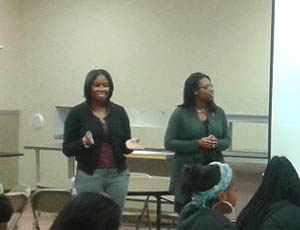 Floyd and Hardy give high school students at The
Pittsburgh Project tips for professional success.
Nicole Simmons and Christina Spearman developed a workshop on team building for local business professionals.
"Team building is simple in nature but one of the most important skills needed in order to grow personally and professionally. Our workshop was a reminder of how properly interacting with others can be the difference between success or failure," said Simmons.
Simmons and Spearman worked so well together on their class project that they have decided to put together a business plan to launch a nonprofit organization helping pregnant teen women gain both professional and life skills.
"Achieving a master's degree in this exciting field will give me more opportunity, confidence and knowledge and will allow me to expand my leadership abilities in the community and workplace," said Spearman.
"I chose Point Park because of the flexible class schedule offered. I have been able to reach my educational goals while caring for my children and working full time," Spearman added.
"As leaders, we need to actively engage with our communities and serve their needs. This is how I see Point Park students becoming catalysts for change," said Knorr.
Learn More
Meet the faculty in the School of Business and learn more about the M.A. in leadership graduate program.

Photos by Victoria A. Mikula, junior mass communication major and Helena Knorr, Ph.D.
More About: student presentations, Rowland School of Business, Downtown Pittsburgh, M.A. in leadership, graduate programs