more news
Department of Community Engagement & Leadership Welcomes New Cohort with Symposium and a Service Project
Tuesday, September 6, 2022
"It's such a unique program. You can't find anything like it anywhere else. It is interdisciplinary with small cohorts and such a level of care. We're here because we all care about community."
Bethany Ozorak, fourth-year student, Ph.D. in Community Engagement
Point Park University's Department of Community Engagement & Leadership welcomed its latest cohort for the Ph.D. in Community Engagement program with a welcome weekend of volunteer service at the Greater Pittsburgh Community Food Bank and impactful, real-world research presentations at its annual symposium.
"The support is so important," said Bethany Ozorak, a fourth-year student enrolled in the low-residency program. "It's such a unique program. You can't find anything like it anywhere else. It is interdisciplinary with small cohorts and such a level of care. We're here because we all care about community."
At the food bank, cohort members worked together to inspect, sort and package boxes of food at the the Volunteer Engagement Center. Helping those who are food insecure is a cause the department prioritizes through its community partnerships, as well as on campus with the Pioneer Pantry, which serves students in need.
The following day, the department hosted a symposium to showcase research projects by cohort members and Point Park faculty and undergraduate students. 
Sticking with the weekend's theme of building community, Ozorak's presented her project, "Trust and Reciprocity in Community-Campus Relationships: A Phenomenological Study of Community Partners' Perspectives," which explores how universities and colleges can best collaborate with its neighboring businesses and organizations to build positive relationships throughout their communities. 
"It was a great opportunity to explain my research to people who have never heard about it before and describe the importance of it to people aren't familiar with the subject matter," she said. 
Danielle Pilgrim shared insights from her research, "Systemic Racism: How Public Policies Created Racial Residential Segregation and Perpetuates Racial Inequity and Injustice," which focuses on the impact of systemic racism on two communities in Michigan. She seeks to facilitate change on small and large communities through her work.
"My research is a catalyst for racial equity, and that is what I desire," she said. "The professors in this program are phenomenal, and they equip you in and out of the classroom with knowledge and research to make sure you succeed and become a master of your topic."
Additional student presentations included:
Audia Robinson and Lauren Lazzari, "Where Can We Go? Pittsburgh Public Restroom Report"
Vickye Ford, "Memphis Motivations: The Impact of Motivation in a Healthcare Employee volunteer Program"
Jessica Ruffin, "Black Women Advancing Equity"
Lisa Simons, "Held to a Higher Standard: Purebred Dog Rescue Volunteers and the Experience of Community"
Asa Sloss, "Investigating the Artist's Role in Deindustrialized Communities: A Case Study of the Artist-Run Nonprofit, Artists Image Resource"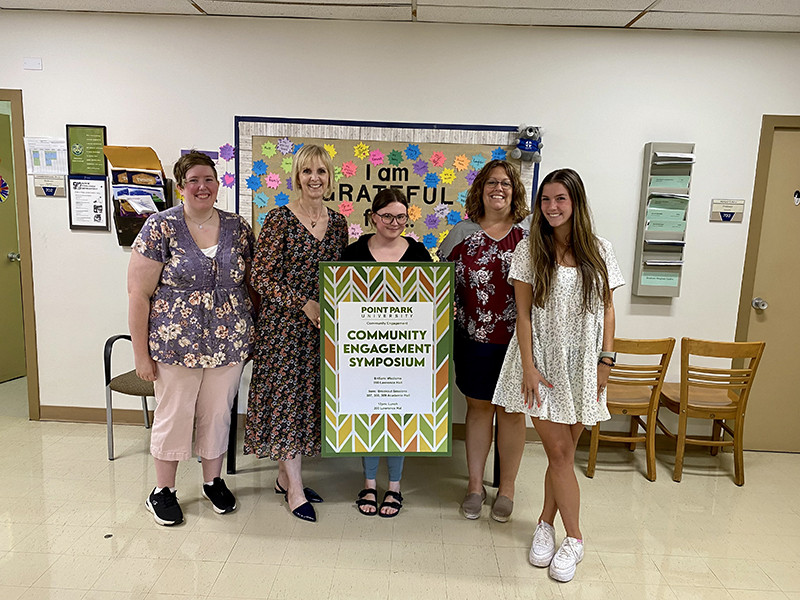 Christal Edmunds, Ph.D., and School of Education students
Several of the department's Social Impact Grant awardees also presented on community-focused research. Christal Edmunds, Ph.D., professor in the School of Education, and students Katlyn Busch, Christine Daube, Hannah Burke and Alexandria Rinehimer shared their findings from piloting emotional intelligence activity kits from toy company Open the Joy with students in the Mt. Lebanon Extended Day Program. The grant program funded the purchase of the kits, which are themed around kindness, anger, gratitude, love and forgiveness and include educational arts and crafts that emphasize managing emotions, reducing stress, developing motor skills, and building confidence. 
Faculty presentations included:
 

Yan Pang, Ph.D., who presented on Music for Change, a collaboration with Animal Friends 

to bring awareness to adopting animals from a local shelter instead of buying from a breeder, a pet store or other unethical approaches.

Andrew Halasz, M.F.A., who presented on "By the Waters of Babylon," an award-winning virtual reality documentary about composers who wrote and performed music while imprisoned in a Nazi camp and the modern-day string quartet dedicated to keeping this music alive.
Learn more about the Department of Community Engagement & Leadership's master's and doctoral programs by visiting its Academics page, and find information about its projects on its Initiative and Events page.
More About: doctoral student, doctoral programs, faculty presentation, faculty research, faculty, community engagement, Ph.D. in community engagement, Rowland School of Business