more news
Ethical Leadership Essay Writers Forum for Graduate Students Nov. 13
Tuesday, October 13, 2015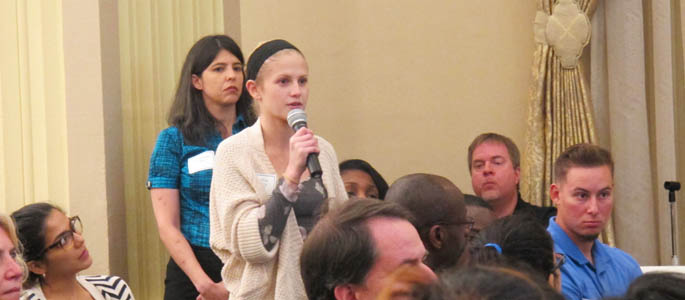 Above: A Point Park graduate student asks panelists a question at the 2014 Ethical Leadership Speaker Series event.

As part of the Fifth Annual Meeting the Challenge of Ethical Leadership Speaker Series, Point Park University graduate students in the Organizational Behavior and Ethical Leadership and Sustainable Organizations classes will compete in an essay writers forum Nov. 13.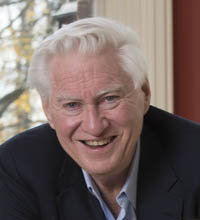 McGuire

In their essay presentations, students will address the question, "What values and best practices make a leader ethical and effective?" while highlighting a leader whom they admire and respect. The winning essay presenter will receive $500.
Sponsored by James M. Haley, Ph.D., professor and H.J. Heinz Endowed Chair of Management, the event will take place in Lawrence Hall 200 with doors opening at 5:30 p.m.
At 6 p.m., Haley will welcome the following two co-facilitators and panelists.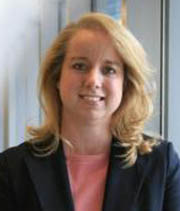 Connolly
McGuire and Connolly will judge the essay finalists and then lead a panel discussion on leadership with the audience. The winner of the essay writers forum will be announced at 8 p.m.
More Event Information and Registration
Complimentary hors d'oeuvres, wine and beer will be served at the event. (Proper ID is required). The event is open to the public and there is no charge to attend. However, space is limited and registration is required.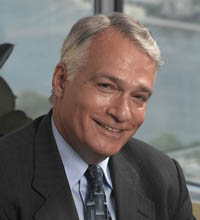 Haley

Register for the event by contacting Stephanie Marks, assistant to the chair for the Department of Business, at smarks@pointpark.edu or 412-392-6157.

Follow and comment about the Ethical Leadership Speaker Series on social media using the hashtag #PGHEthicalLeadership.

Related Links
More About: student presentations, student competition, Rowland School of Business, M.A. in leadership, faculty, M.A./M.B.A., graduate programs, M.B.A., research