more news
Ethical Leadership Event Addresses Organizational Forecasting
Friday, November 14, 2014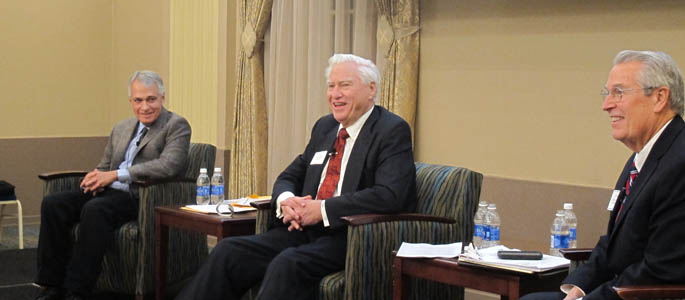 Panelists left to right: James Haley, Ph.D., Timothy McGuire, Ph.D. and Jon Delano, J.D.

In today's business environment, leaders must conduct strategic forecasting that will produce a sustainable vision for the organizations they lead. That was the key message shared by expert panelists Oct. 29 at Point Park's Fourth Annual "Meeting the Challenge of Ethical Leadership" Speaker Series.

Sponsored by the Department of Global Management and Organization and the Pittsburgh Business Times, the speaker series is based on the Ethical Leadership and Sustainable Organizations course offered in the M.B.A. program at Point Park University.
The event began with a welcome address from President Paul Hennigan, followed by remarks from panelists:
"I really enjoyed hearing Jon Delano's perspective from the money and politics point of view. Since I work in the financial services industry, it was helpful to hear his insight," said Christine Demore, 2012 M.B.A. alumna, vice president of Point Park's Alumni Association Board of Directors and global pricing operations manager for the Bank of New York Mellon.

"I enjoyed the discussion on how the distribution and consumption of content is being changed. Information is critical when one is forecasting and making ethical decisions," added Ashley Ropar, M.A./M.B.A. student and marketing manager for the software company, Industry Weapon.

"The current economic recovery is not sustainable if the Federal Reserve continues to target interest rates near zero, causing chaotic speculation," warned Haley. 
Other key topics covered by the panelists included how to: identify drivers of success; manage uncertainties with media, government and public policy; measure sustainability for the current economic expansion and be an ethical leader who unites all stakeholders.
"The main goals for this speaker series are to increase awareness about the importance of ethics in business and encourage Point Park graduate students to be effective, ethical leaders in their professions," said Dawn Parasolick, event organizer and assistant to the chair for the Department of Global Management and Organization.
According to Parasolick, this year's event garnered its largest crowd ever, with more than 150 graduate students, alumni, faculty, staff and business professionals in attendance.
"I found the discussion on how we select our sources of news information to be fascinating. The fact that my generation has the ability to select news platforms and choose how that message is formulated is so interesting," explained Jared Lathrop, M.A./M.B.A. student and marketing intern for Just Ducky Tours in Pittsburgh. "However, I also found it to be troubling that my generation doesn't get the most well-rounded look on issues because we tend to only go to news services or platforms that echo our own views."
Lathrop added: "Point Park has given me the keys to open up so many doors for myself and for that I am grateful."
More About: Rowland School of Business, M.B.A., faculty presentation, student workshop, global management and administration, faculty, symposium, business management, M.A./M.B.A.