more news
Faculty Q&A: Meet Kendra Ross, Assistant Professor of Sports, Arts and Entertainment Management
Wednesday, October 2, 2019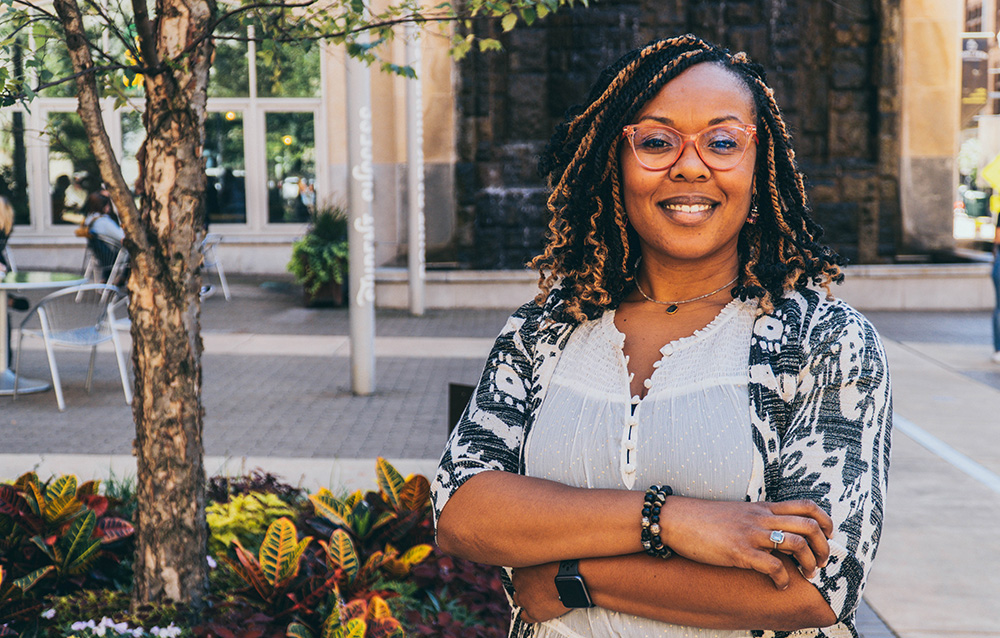 "What I love about the sports, arts and entertainment management program and Rowland School of Business as a whole, is that we offer students a very practical career toolkit and encourage immersive and experiential learning from day one."
Kendra Ross, ABD, SAEM assistant professor
What factors made you choose Point Park University to be a Ph.D. doctoral student and an SAEM assistant professor?
I was drawn to the Ph.D. in community engagement program here at Point Park quite serendipitously … it landed on my Twitter timeline! I'd never heard of a doctoral program like ours, which is centered around engaging communities, scholar-practitioner focused and tailored for professionals already working full time in their respective fields.
After I enrolled in the inaugural cohort and began meeting people on campus through my role as the department's first graduate assistant, my academic and career interests began to overlap. Things really started to crystallize when I met my now colleague, Paige Beal, who I talked with about my experience and professional interests in the program.
After co-instructing the Intro to Sports, Arts and Entertainment class with Paige last year, I knew I wanted to teach in the program. Shortly thereafter, the SAEM assistant professor position was posted and I applied. I was encouraged by the fact that everyone in the department offered a different model for what it looked like to move from corporate industry to academia.
Over the past four years, Point Park University faculty, administration and students have all helped to reshape my personal and professional trajectory and gave me a home for my work and research interests in my hometown after 20 years in NYC. As a result, I feel as if Point Park University and I chose each other! 
How do you incorporate your industry experiences into the classes you teach?
What I love about the sports, arts and entertainment management program and Rowland School of Business as a whole, is that we offer students a very practical career toolkit and encourage immersive and experiential learning from day one. Whenever I can, I present scenarios and examples from my career in my lectures so that students understand how the lessons might play out in the "real world." Since I have also been an independent recording artist, I include those experiences in my teaching in order to give students a more holistic perspective on how the industry works. 
Tell us about your research and teaching interests.
All of my interests and work to date have been rooted in the belief that art and culture can change hearts and minds … and the world. My personal definition of entertainment really comes down to the place where art and commerce intersect. My current teaching is concerned with laying the foundation for a career in the SAEM field and enriching students' interests with a basic knowledge of the business. I'd like to eventually offer students a more in-depth look at current hot topics in entertainment such as its relationship to Big Data, as well as legislative developments impacting the field, most strikingly, the Music Modernization Act.
My scholarly research interests also include exploring the more creative dimensions of the arts and entertainment fields, as well as looking at them in social and political contexts. More specifically, I am interested in the ways in which the arts, culture and entertainment are taken up in community engagement, organizing and activist spaces. Right now, my dissertation research looks at the work of Black women cultural workers in Pittsburgh's Hill District. 
What key advice do you have for our SAEM students interested in music and entertainment industry careers?
I tell my students each week that in order to become experts in their fields they need to always be researching and staying abreast of new developments in the business. Due to technological advancements and the way in which entertainment has transformed into an even more data-driven business in recent years, things are moving at such a fast pace. So fast, that it makes it hard to keep up.
Textbooks become outdated quickly and lesson plans sometimes need to be tweaked minutes before class. Many in the business are being left behind because they are clinging to old models and ways of doing business, while others are resting on their laurels and natural talent. My message to students is that talent is not enough, neither is matching the status quo. If they are willing to put in the work and fully lean into the opportunities that they are offered here, they will not only make a living in entertainment, but can join the next vanguard of leaders pushing the industry forward.
Final thought?
For a final thought, I think the timing of my appointment here at Point Park is so awesome. I foresee some amazing things happening at this University over the next few years and I am grateful for the opportunity to have both a front seat and a bit part in it.
More About: sports, arts and entertainment management, faculty, community engagement, Rowland School of Business