more news
High School Students Learn the Business of Managing Sports, Arts and Entertainment
Friday, July 26, 2013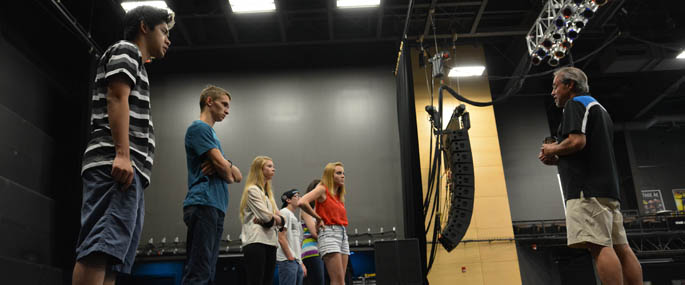 High school students recently spent three days learning the business behind managing sports, arts and live entertainment — the three areas that make up the SAEM major at Point Park University.
"The SAEM summer workshop is a great opportunity for high school students to see what our program is all about," said Assistant Professor Ed Traversari, M.B.A.

In addition to getting a thorough overview of sports, arts and live entertainment management, students learned about venue and facility management, the record business, talent management and sports and entertainment legal principles.

Effective public relations, communications and marketing strategies for the sports, arts and entertainment industries were also discussed.
Students toured Stage AE, the Benedum Center, Byham Theater and the Pittsburgh CLO Cabaret Theater and heard from guest speakers Greg Joseph, bass guitarist and vocalist for The Clarks; SAEM graduate Adam Sutermaster and Jeff Railsback, street team coordinator and director of interns at Stage AE.

"It was great to connect with so many passionate, driven students," remarked Steve Tanzilli, J.D., associate professor and director of the SAEM program.
Here's what some of the students had to say about the workshop:


"The workshop was really well put together. The professors answered all of my questions and were very helpful."
- Tristen Black, DuBois Area Senior High School, DuBois, Pa.

"I originally wanted to pursue sports management but this workshop has interested me in other areas too. I've learned a lot about the SAEM program at Point Park."
- John Kier, Pittsford Sutherland High School, Rochester, N.Y.

"I liked that the SAEM professors have experience working in the areas they teach. They know what it takes to work in the industry."
- Abby Knox, South Forsyth High School, Cumming, Ga.

"I enjoyed how each day was separately focused on sports, arts and live entertainment. I will be attending Point Park in the fall as an SAEM major so I came to the workshop to get to know the professors better and get a jump on classes."
- Jessica Martin, Brentwood High School, Pittsburgh, Pa.
Photos by Connor Mulvaney, junior photojournalism major
More About: Stage AE, Downtown Pittsburgh, sports, arts and entertainment management, high school programs