more news
Information Technology Student Organization Members Experience the Future of Video Games at E3 Expo
Thursday, August 23, 2018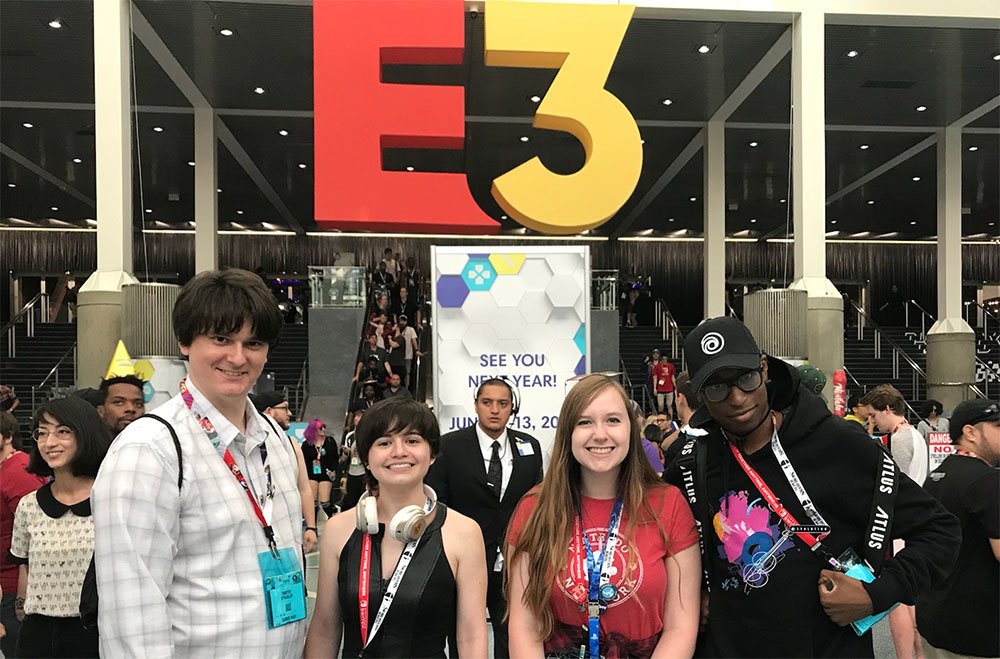 L to R: Tim Strickler, Gianna Regoli, Heather Peloza and Jacquez Ushery (Photo by Jaime Ballesteros)

Point Park University students and Information Technology Student Organization members Jaime Ballesteros, Heather Peloza, Gianna Regoli, Tim Strickler and Jacquez Ushery had an inside look this summer into the future of eSports and video game marketing at the 2018 Electronic Entertainment Expo (E3).
Held at the Los Angeles Convention Center, E3 is recognized as the world's premier event for computer and video games and related products in the interactive entertainment industry.
"As club president, I really wanted to share with my fellow students the innovative ways that eSports, game development and storytelling are being implemented in the video game industry and how their degrees from Point Park can apply to a number of career opportunities in gaming," explained Ballesteros '18, IT alumnus, veteran and MBA student concentrating in management information systems from Honolulu, Hawaii. 
While in LA, Ballesteros arranged for the students to take a tour of one of the most popular publishers of entertainment software — Blizzard Entertainment in Irvine, Calif.
"The Blizzard tour was beyond expectations. Along with seeing their impressive campus, artwork and Global Network Operation Center, we were given insight to the processes that allow a software development company to work as efficiently and effectively as they do. We also learned a great deal about eSports communities," said Strickler, a junior information technology major from Belle Vernon Area High School in Belle Vernon, Pa.

Strickler added: "I am currently working as a software support engineer. However, I wish to move beyond software support and into the software development field. Point Park's IT program is teaching me all I need not only for the programming and technology sides of my goal, but also for the business and management side that will help me move on to a lifelong career."
"We sincerely thank our club advisor Dr. Mark Voortman, Rowland School of Business Dean Steve Tanzilli, Point Park's United Student Government and Rachel Phillips, assistant coordinator of student involvement, for their support in making the E3 trip possible," Ballesteros said.
Point Park's Information Technology Student Organization was named the Outstanding New Student Organization at the University's 2018 Outstanding Student Awards.
Learn More
Explore the information technology program in the Rowland School of Business at Point Park University.
Request information, schedule a campus visit or apply online.
More About: Campus Activities Board, M.B.A., information technology, veterans, Belle Vernon Area High School, student trips, Rowland School of Business, IT