more news
Get Career-Ready with: Juan Barrera '25, Applied Computer Science and Business Management Major
Student Profile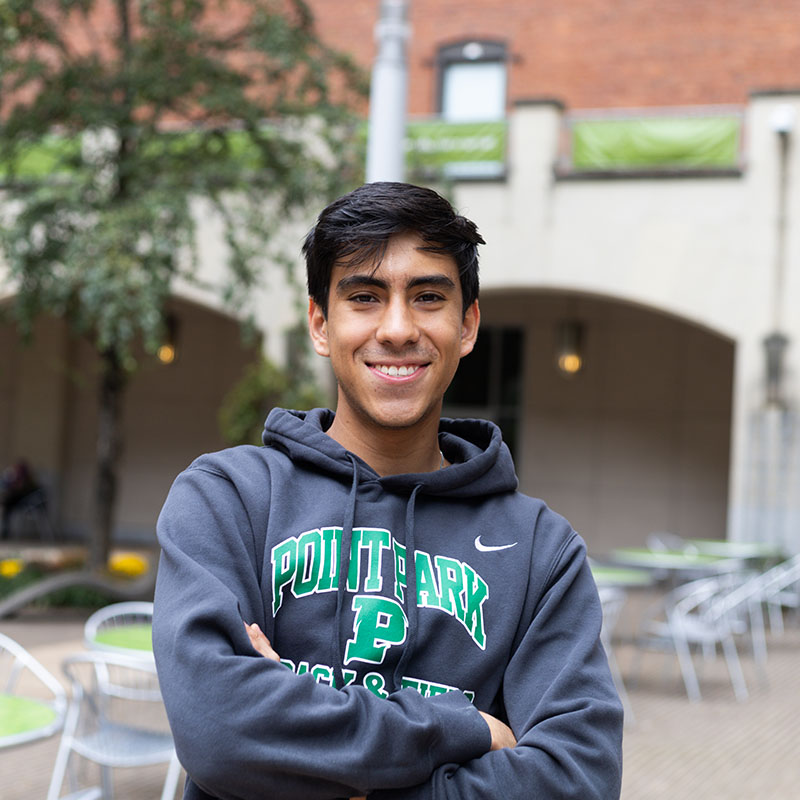 Photo by Ethan Stoner '26
Meet Juan Barrera '25
Majors

Applied Computer Science, Business Management

College Activities

Track & Field, Resident Educator, CulinArt Group staff

Hometown

Bucaramanga, Colombia

High School

Aspaen Saucará

Dream Job

Any place where I can contribute to make a positive impact in the world

Hobbies & Interests

Reading, languages, hiking and traveling
"Point Park's downtown location provides ample internship and co-op opportunities with local businesses, facilitating practical experience and professional networking."
Juan Barrera '25
What led you to Point Park University?
I selected Point Park University because of its downtown campus. Coming from Colombia, I was eager to immerse myself in a new and unique environment. Additionally, Point Park's track team's remarkable success in the River States Conference, with multiple conference championships under their belt, further motivated me to join the University's athletics program and contribute to the team's ongoing achievements.
What aspects of Point Park have allowed you to adjust to life in Pittsburgh as an international student?
During my first week at Point Park, I attended an international student orientation led by Rebecca Lee, director of International Student Services, which proved immensely beneficial. I was introduced to school resources and made several international friends, many of whom I'm still close with. It's incredibly reassuring to experience a warm welcome and to witness the University's commitment to the well-being of international students by providing them with essential information prior to commencing their studies.
The professors are exceptionally understanding and willing to assist students based on their individual needs. As an international student, I encountered challenges in my first few semesters, including unfamiliar words and concepts, or needing extra time to prepare for exams. My professors worked with me to develop effective study plans that helped me successfully complete my courses.
Point Park boasts various student organizations, such as the LatinX Student Association, which hosts cultural events throughout the year featuring diverse aspects of Latin American countries, like salsa classes, food festivals and movie nights. These events provide a platform to connect with people who share similar backgrounds and experiences, fostering a sense of belonging and relatability. 
Point Park University's degree programs in business management and applied computer science are structured to prepare students for successful careers by offering a practical curriculum that blends theoretical knowledge with industry-relevant skills.
Students in business management gain expertise in management, marketing, finance and entrepreneurship, while applied computer science students develop hands-on programming and problem-solving skills crucial in the tech sector.
Point Park's downtown location provides ample internship and co-op opportunities with local businesses, facilitating practical experience and professional networking. Point Park's industry connections and the Professional Career-Readiness Center aid in job placement and mentorship, ensuring students are well-equipped to thrive in their chosen fields.
Which faculty members and courses have had a significant impact on you? 
Professor Mitch Nickols, Ph.D., emphasized the significance of our personal reputation and the image we project. He emphasized how even our smallest actions can have a profound impact on our future and how others perceive us. Additionally, he stressed the importance of our choice of words, highlighting their ability to convey a great deal about our character. 
In the realm of marketing, Professor Paige Beal, MBA, went above and beyond. In addition to teaching the foundational principles of the subject, she fostered a culture of teamwork throughout the semester. She provided invaluable insights into the art of networking and interpersonal relationships in the modern world. She underscored that networking isn't merely a skill but a daily opportunity to create better prospects and broaden our horizons.
Professor Dimitris Kraniou, Ph.D., my macroeconomics instructor, creates an active classroom dynamic that inspires participation and encourages the expression of our own opinions. His willingness to listen to and value individual opinions encourages students to share their ideas and unique perspectives. Dr. Kraniou's enthusiasm for macroeconomics has positively influenced my attitude toward the subject, making classes educational, memorable and rewarding.
Professor Matt Pascal, Ph.D., my statistics instructor, demonstrates an admirable awareness of the complexity of the course. What really stands out about Dr. Pascal is his genuine interest in the success of his students. He cares deeply about each student's progress and looks for ways to ensure that everyone reaches their full potential. His personalized approach and sincere desire to see his students thrive make him an excellent instructor and valuable mentor.
What are some of the activities you're involved in on campus? 
As a Resident Educator in the Office of Student Life, I serve as a bridge between students and the University's resources. It's about being someone that people can count on and a resource for anyone who has questions, concerns or simply wants someone to talk to. I've had the privilege of assisting students in navigating the challenges of University life, addressing their concerns and offering guidance. My role as an RE has allowed me to develop my communication, listening and group-work skills.
I'm a proud member of the men's track and field team, where I've had the privilege of achieving success in the River States Conference, both in individual and relay competitions.
I've been an enthusiastic participant in the Latinx Student Association, which has allowed me to celebrate our rich heritage, engage in cultural events and forge meaningful connections with like-minded peers.
Was there a moment during your Point Park career where you felt everything click or come together?
My journey at Point Park has had a few crucial moments, but one stands out vividly. When registration for the RE program opened, I recalled my high school volunteer work in Colombia and realized that this was a unique opportunity to contribute to my University community and make a positive impact. I gathered the courage to apply. The interview left me quite nervous, and the waiting period after was filled with anticipation.
When I received an email titled "RE Position Status," I initially thought they were thanking me for applying but moving on with other candidates. My emotions took a complete turn when I read, "Please allow me to be the first to congratulate you on your offer to be a Resident Educator with the First-Year residential population."
This moment significantly boosted my confidence and enthusiasm for my journey at Point Park, serving as a reminder of why I chose this path and motivating me to continue pushing forward.
What do you like about going to school in Downtown Pittsburgh?
As a downtown student, I have the privilege to enjoy scenic views of rivers, parks and green spaces, as well as attend sporting events and be part of Pittsburgh's passionate sports fan community. These factors collectively contribute to the amazing experience I've been able to enjoy almost every day of my stay here so far. 
Why would you recommend Point Park to a prospective student?
One of the key factors that attracted me to Point Park was its proximity to various businesses, healthcare institutions and tech companies. This strategic location offers a plethora of internship and job opportunities, which is invaluable for students looking to gain real-world experience and kickstart their careers.
Additionally, Point Park offers an enriching cultural immersion that is particularly appealing for individuals passionate about the performing arts, including Dance, Cinema Arts and Theatre. For students with a deep-seated love for these creative disciplines, Point Park can be an ideal place to nurture their talents and pave the way to a successful career.
Connect with Juan Barrera '25
More About: applied computer science, business management, international, athletics, student athletes, Get Career-Ready, Rowland School of Business