more news
HR Management Major Kyle Arnold '23 Interns with Fintech Firm EdgeCo Holdings
Student Profile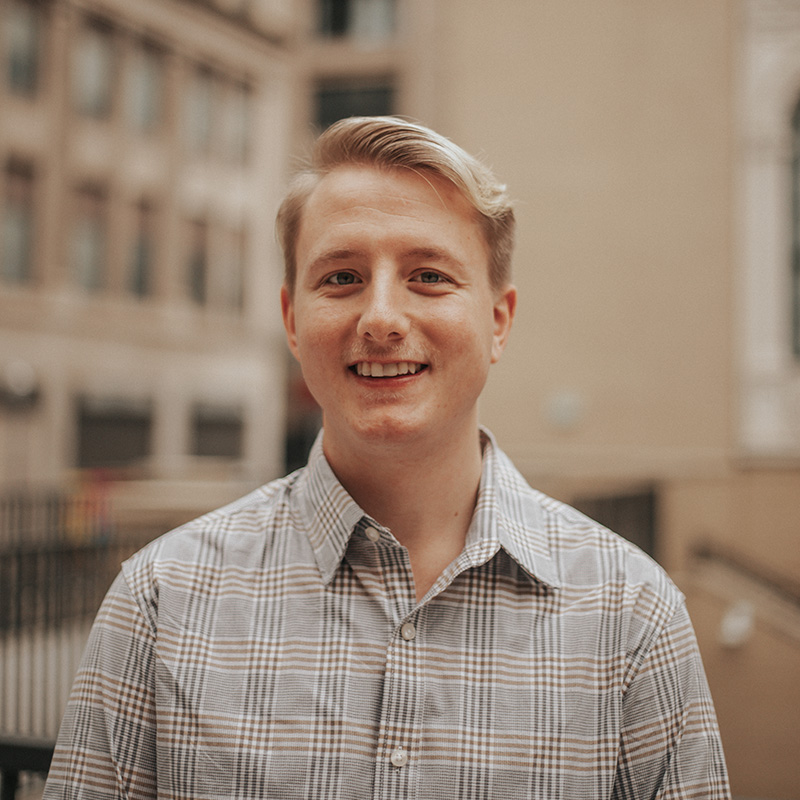 Photo by Madi Fisher '23
Meet Kyle Arnold '23
Job Title & Employer

Human Resource Management Intern, EdgeCo Holdings

Major

Human Resource Management

Minor

College Activities

Treasurer of the Student Human Resources Association

Hometown

Bradford, Pa.

High School

Bradford Area High School

Now Living In

Pittsburgh, Pa.

Dream Job

Working for a large corporation in employee relations or labor relations

Hobbies & Interests

Hanging out with friends, watching movies, researching and keeping up to date on HR-related news articles through the Society for Human Resource Management
"Point Park was my first college tour, and the moment that I entered the city and campus, I knew it was the right place for me."
Kyle Arnold '23
How did you land your internship with EdgeCo Holdings?
I searched for and applied to internships for several weeks using LinkedIn. I had an interview with another company, but unfortunately after many weeks of interviewing for the position, they hired someone else with greater qualifications. This disappointment did not keep me down though, and I kept applying for a variety of internship opportunities in Pittsburgh. EdgeCo, which is a financial technology company, was one of my last interviews, and I knew right off the bat that I landed the internship based on how well I performed in the interview and the interactions I had with the hiring manager.
What were your duties and responsibilities?
My main goals going into the internship were to complete three projects. The first project involved extensive research in identifying progressive benefits that draw younger individuals into the workplace. The firm was struggling to bring in recent college graduates, so I reviewed their existing benefits and completed outside research on what other companies in this job market were offering to set themselves apart from the competition. I also executed a survey to support my findings with real data. At the end of my internship, my supervisor provided my research to upper leadership and the rest of the HR department to determine how to implement new benefits. The second project involved significant scanning and shredding to optimize our HR filing system and properly manage confidential documents. The third project involved data entry for our new human resource information system.
Additionally, I helped the recruiting specialist with filling job openings, including screening candidates, sitting in on interviews and helping with the onboarding process. I also sat in on a few terminations to observe the process. Unfortunately, terminating employment is something that I will have to do in my career, but this experience provided me with valuable insights so that I know what to expect.
What was your favorite part of the internship?
I loved working alongside an experienced, well-adapted human resource team. The team consisted of five employees, and I got to sit down with each of them to learn about their professional paths. It was interesting to hear how far they had come in their careers. They provided actionable advice to consider as I start my career.
How is Point Park's Human Resource Management program preparing you for career success?
I applied what I learned in class directly to the tasks I completed in my internship. The professors at Point Park, especially Sandra Mervosh, M.S., SHRM-SCP, SPHR, and Wayne Grim, MBA, use real-world examples in a variety of ways while covering the textbook material. Their hands-on methods of teaching helped me in tremendous ways.
What do you like about living and learning in Downtown Pittsburgh?
I grew up in a small town. In high school, it was always my dream to move to a bigger city, but I wasn't really sure what location would provide me with the away-from-home experience while allowing me to easily take day trips home whenever I wanted.  I didn't want to have to fly home to see my family and friends. Point Park was my first college tour, and the moment that I entered the city and campus, I knew it was the right place for me. I like the constant interaction with people and being a part of a bustling city. I love that we have a vertical campus, and many of the classrooms come with an added view of the beautiful city. 
Why would you recommend Point Park to a prospective student?
Point Park's campus is just small enough that you get to know just about everyone. The University is a diverse and accepting community. As a member of the LGBTQ+ community, it was great to come here and see that there are many individuals like me. I also appreciate the small class sizes. When considering schools, I wanted to have direct interaction with my professors and feel as though they care about my education and career success. If you are looking for these characteristics in a school, Point Park is a great fit for you.
Read more:
Learn about the Rowland School of Business' approach to education in the video below:
Connect with Kyle Arnold '23
More About: internships, success story, Rowland School of Business, human resource management