more news
Leadership Professor Selected by Euroleague Basketball to Teach Yoga to Youth in Spain
Monday, January 11, 2016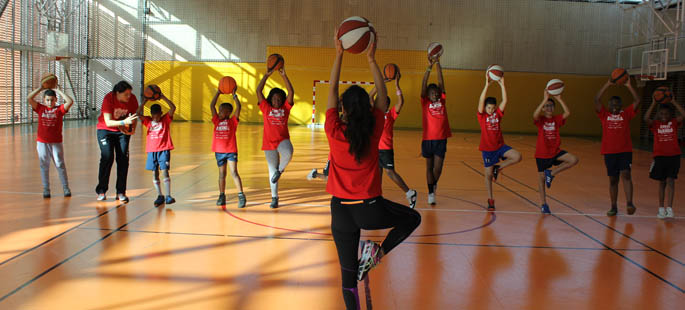 Helena Knorr, Ph.D., associate professor of organizational leadership at Point Park University, traveled to Vitoria, Spain, Dec. 28-31, 2015, to participate in ONE TEAM, Euroleague Basketball's corporate social responsibility program.

"My passion lies in empowering individuals. I teach yoga as a holistic approach to developing leadership skills such as motivation, self-esteem, emotional intelligence and interpersonal communication," explained Knorr. "In my growth as a professional, I've realized there are multiple ways to reach out to people and help them develop as leaders."
Knorr was invited by the Spanish professional basketball club Saski Baskonia S.A.D. to teach yoga to at-risk youth in their basketball clinic. She was selected because of her passion and commitment to developing leaders around the world.
Each participating club in the ONE TEAM program develops a project tailored to its own community needs. Since its founding in 2012, ONE TEAM has directly reached 5,000 participants through its various team projects.
Learn More
Learn more about the B.A. in organizational leadership and M.A. in leadership programs at Point Park University.
More About: faculty, organizational leadership, Rowland School of Business, M.A. in leadership