more news
Legendary Actress Carol Burnett Rehearses with SAEM Students at Her Show in Pittsburgh
Wednesday, May 9, 2018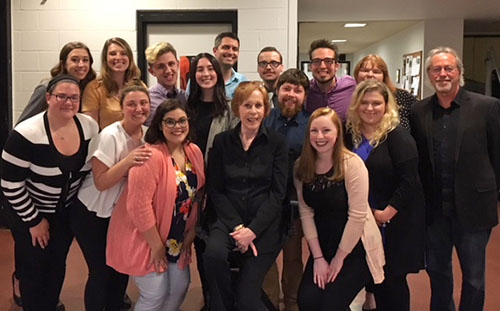 Fourteen Point Park University sports, arts and entertainment management students met award-winning, renowned actress and comedian Carol Burnett while working as mic handlers at her Heinz Hall show May 6 in Pittsburgh. 
"Being a mic handler was an important job because the majority of her show involved taking questions from the audience. She needed to have microphones throughout the entire venue, from the orchestra to the balconies," explained SAEM Associate Professor Ed Traversari, M.B.A., who connected students to the opportunity through his relationships with executives at Heinz Hall. 
Keely Sapienza, a senior SAEM major from Woodland Hills High School in Pittsburgh, was one of the students who worked at the show.
"When Professor Traversari presented this opportunity, I could not pass it up! I grew up watching Carol Burnett with my parents and having the chance to work with her filled me with such excitement," Sapienza said. 
She added: "People cried and laughed, all because they adore Carol Burnett. My favorite part would have to be when we got to rehearse with Carol. In job opportunities like this, you really learn professionalism and how to work with the audience so that they can feel that personal connection with Carol. The SAEM program never fails to give us these amazing experiences, memories and opportunities. I will hold onto each one forever."
Another SAEM student who worked at the show was senior Kelsey Roche from Penn-Trafford High School in Irwin, Pa.  
"Carol is someone I've looked up to in entertainment for years so working at her show was a dream come true for me. We had the important job of making sure her fans were heard," said Roche, who is pursuing a career as a musician and songwriter.
Roche added: "This opportunity says it all about how amazing the SAEM program is for students."
Learn More
Point Park University SAEM students and alumni have worked at many concerts, events and shows in Pittsburgh within the past couple of years, including those listed below.
Read about their experiences:
More About: sports, arts and entertainment management, Rowland School of Business, Penn-Trafford High School, Woodland Hills High School, Downtown Pittsburgh