more news
M.B.A. 2015 Alumnus is a Manager of Sales Support and Administration at UPMC Health Plan
Friday, December 9, 2016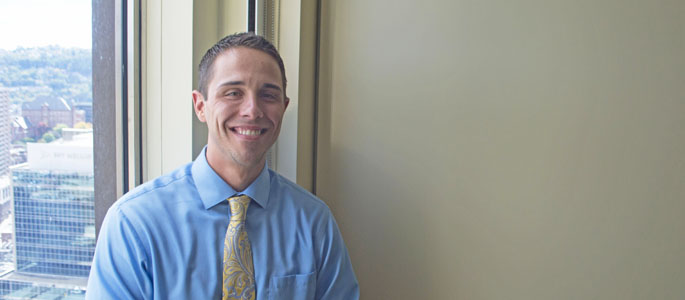 Meet Joseph Veltri
Job title: Manager, Sales Support and Administration
Employer: UPMC Health Plan
Degrees earned: M.B.A. with a concentration in Health Systems Management, 2015, and B.A. in Psychology, Slippery Rock University, 2010
Hometown and current residence: Pittsburgh, Pa.
High school: Serra Catholic High School

"The M.B.A. classes have helped me with my career because they were taught by successful professionals with real-world experience in relatable fields. These professors passed along their knowledge to me so that I could apply it to my own career."

-- Joseph Veltri

---
Why did you choose Point Park for graduate school?
The primary reason I chose Point Park University for graduate school was because the M.B.A. program offered a concentration in health systems management. I'm very happy working in the health care industry, and I felt that adding an M.B.A. with that particular concentration would help me grow towards my career goals.
How have your M.B.A. classes helped you in your position at UPMC Health Plan?
The M.B.A. classes have helped me with my career because they were taught by successful professionals with real-world experience in relatable fields. These professors passed along their knowledge to me so that I could apply it to my own career.
Why do you think it's important for professionals working in the health care field to earn M.B.A. degrees?
Many people think of the health care industry solely from the provider standpoint. However, there are many aspects to the industry required for it to function properly. One of those is the business aspect of health care. For that reason, I find it to be very important for individuals working on the business side to further their education as much as possible, and what better way to do so than earning an M.B.A.
What's your favorite Point Park memory and why?
My favorite Point Park memories are from the classes taught by Professor Archish Maharaja. I had the pleasure of having "Arch" as my professor for many of my M.B.A. classes, including the majority of my concentration classes. Not only is he very knowledgeable, but he's also very passionate about sharing that knowledge with his students.
What are your career goals for the next five years?
Over the next five years, I plan on working to refine my management skills while also applying the skills I learned in Point Park University's M.B.A. program to continue to grow in my career in the health care field.
Photo by Shayna Mendez, senior photojournalism major
More About: UPMC, Rowland School of Business, Serra Catholic High School, alumni, M.B.A., graduate programs, Downtown Pittsburgh