more news
M.B.A. 2016 Graduate Selected as Lead Operations Analyst at UPMC Health Plan
Friday, December 9, 2016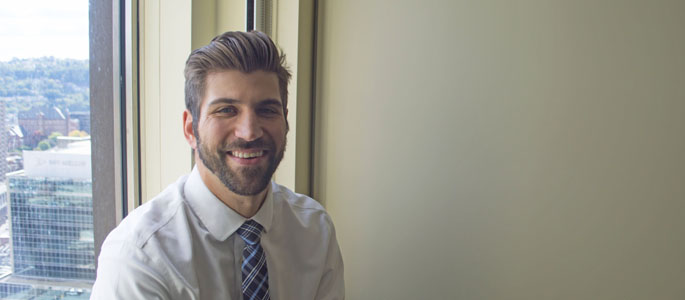 Meet Benjamin Eonta
Job title: Operations Analyst, Lead
Employer: UPMC Health Plan
Degrees earned: M.B.A. with a concentration in Health Systems Management, 2016, and B.A. in Broadcasting, 2008, Point Park University
Hometown: Crafton, Pa.
High school: Carlynton Junior-Senior High School
Now living in: Scott Township, Pa.
LinkedIn: Benjamin Eonta

"Ben was selected for the lead operations analyst role because of his experience in the health care industry and his strong technical skill set. He possesses key leadership traits that influence and motivate the team to excel. His M.B.A. degree bolstered his ability to work within the business realm and effectively manage the responsibilities of his role
."
-- Jake Baker, Director of Business Operations and Project Implementation, UPMC Health Plan
---
"Obtaining an M.B.A. was something I wanted as a way to strengthen my skills, and I'm glad I chose Point Park."-- Benjamin Eonta


Why did you choose Point Park for graduate school?
I had completed my undergraduate degree at Point Park and enjoyed the experience. Also, Point Park's M.B.A. program offered a flexible evening schedule, which allowed me to attend class straight from work. Lastly, I was interested in the health systems management concentration since it is related to my career field.
How have your M.B.A. classes helped you in your position at UPMC Health Plan?
Many of the classes I took at Point Park help me on a daily basis at UPMC Health Plan. In my position as an operations analyst, I meet with members of the business, sales and marketing teams every day. In these meetings I am able to apply a variety of skills I learned during my M.B.A program.
Why do you think it's important for professionals working in the health care field to earn M.B.A. degrees?
I believe it's important because it helps you learn more about the health care industry on a broader scale. It was also interesting to study both the physician and business side of health care. If you work in a specific role, it's valuable to learn all the other aspects that make up the health care industry. Lastly, it was great to meet students from other health care organizations throughout the city and interact with them.
What's your favorite Point Park memory and why?
While I had many great memories during my time at Point Park, I would have to say taking all of the health care concentration classes were my favorite. I am able to use the skills I learned in those classes on a daily basis. I enjoyed discussing the health care industry with fellow classmates and making new friends.
What are your career goals for the next five years?
My goals for the next five years are to continue to work for UPMC Health Plan and grow my career. Obtaining an M.B.A. was something I wanted as a way to strengthen my skills, and I'm glad I chose Point Park.

Photo by Shayna Mendez, senior photojournalism major
More About: M.B.A., Carlynton Junior-Senior High School, Downtown Pittsburgh, alumni, UPMC, graduate programs, Rowland School of Business