more news
MBA Alumna Taleesha Johnson is a Staff Accountant at The Pittsburgh Foundation
Alumni Profile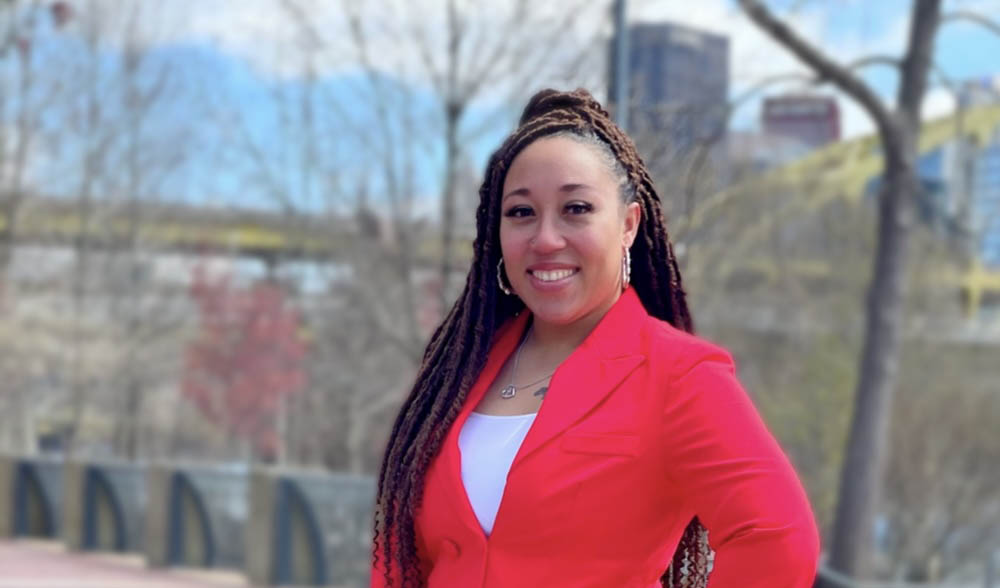 Meet Taleesha Johnson '14
Job Title & Employer

Staff Accountant, The Pittsburgh Foundation

Major

MBA

College Activities

Graduate Student Association

Hometown

Pittsburgh, Pa.; Perry Traditional High School

Now Living In

Pittsburgh, Pa.

Hobbies & Interests

Running my own fitness and wellness business, T.L.J. Wellness and Fitness
"Knowing that I am a part of the bigger process that is helping to do good by the city in which I have always lived makes me proud to come to work every day."
Taleesha Johnson '14
My job as a staff accountant primarily entails gift processing for donors of the foundation. I receive and process all gift donations including checks, credit cards, stocks, cash wires and automated clearing houses. I enjoy the mission of why I do my job duties. I process gifts that go back into the community to help with revitalization, students receive scholarships, etc. Knowing that I am a part of the bigger process that is helping to do good by the city in which I have always lived makes me proud to come to work every day.
You were recently named to Pittsburgh Business Times' 30 Under 30 list. How do you hope to build off of this success?
I really hope to network and connect with individuals who can help me learn and grow. I am currently in two different industries, accounting and fitness/wellness. I have goals that I would like to reach in both industries. If I can connect with people from both industries who can potentially teach me new things to help me succeed and reach my goals, I would be so grateful. 
In what ways did Point Park's MBA program help you achieve career success?
Though I had an SAEM concentration, I still received the general MBA education, which I knew would be helpful in the long run, even if I didn't go on to pursue a career in the SAEM industry. I can attribute my success in the accounting industry in part to my MBA. I was working for an organization that basically said, "Hey, you have an MBA, you can do payroll for us." After gaining that experience, I was able to continue to hold different positions within accounting. Typically, it is hard to get into the industry and climb the ladder without having an accounting degree. I feel like my MBA gives me an advantage that I wouldn't have otherwise had.
I also started my own fitness and wellness business, T.L.J. Wellness and Fitness. I still look back on skills that I learned in the MBA program to successfully run my business.
The SAEM concentration greatly enhanced my educational experience. I was already getting the general MBA education, and the SAEM concentration allowed me to learn more about an industry that I am passionate about.
What did you like about the faculty and coursework at Point Park?
The faculty were all very nice, understanding and helpful. The class sizes were small, which allowed for more interaction with the faculty and students. Dr. Archish Maharaja was my favorite! He was very personable and helpful throughout my time in the program. Going into the MBA program, I was intimidated by the coursework. My undergraduate degree was in communication, so a lot of the business terminology and coursework were new to me. The coursework is set up to help you succeed in the program. Things are broken down so that you can understand the work, learn and be successful. After my first few classes, I no longer felt intimidated but confident that I would succeed throughout the program.
What career advice do you have for current students?
Follow your heart and keep your eye on the end goal. If you have an end goal that you want to achieve, but maybe you need to work in a different industry or take a different route in the meantime to achieve that goal, work the job. Learn what you can learn that will be helpful to your end goal. 
Connect with Taleesha Johnson '14
More About: Rowland School of Business, sports, arts and entertainment management, success story, alumni, M.B.A., Pittsburgh, faculty