more news
Media Association of Pittsburgh Honors SAEM Professor and Journalism Student
Monday, April 29, 2019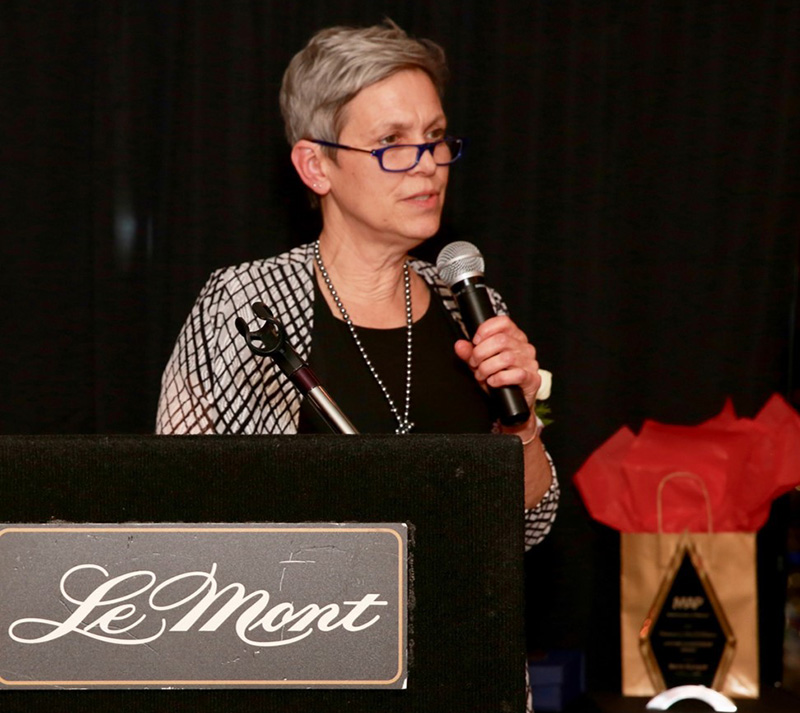 The Media Association of Pittsburgh (MAP) recently honored Paige Beal, MBA, assistant professor of sports, arts and entertainment management at Point Park University, with the Outstanding Achievement in Media Award (OAMA) in the agency/allied category.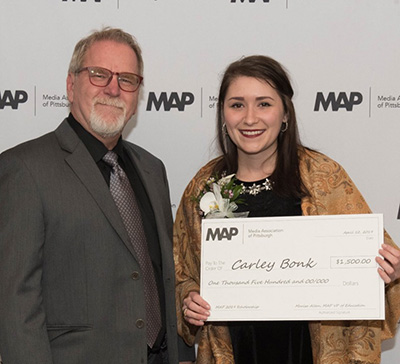 Professor Tim Hudson, Ph.D., and Carley Bonk
This award honored Beal's service to MAP and to the Pittsburgh media industry. Beal is a past president of MAP and was an Art Stein Award OAMA honoree. 
Her media business career includes media marketing and management in radio, TV and Internet. Most recently, she was senior director of sales for Comcast Spotlight Pittsburgh and her Pittsburgh media career included WRRK FM (Benns Communications), WWSW FM (Clear Channel), and WPXI TV's Pittsburgh.com (Cox Interactive Media).
As a Point Park University professor in sports, arts and entertainment management, Beal continues to educate and inspire students on career paths in media.
"One of Paige's favorite quotes to live by is one that describes her so well from the late author and politician Bruce Barton: 'When you are through changing, you're through.' Paige keeps changing. Paige keeps evolving and learning and exploring. She delights in then sharing what she's learned as she continues to lead, innovate and inspire," said Morry Feldman, senior account executive for WQED Multimedia.
Additionally, Carley Bonk, a Point Park transfer senior journalism major and editor in chief of The Globe from Conemaugh Township High School in Davidsville, Pa., received the Mary Beth Beggy-Fischerkeller Scholarship.
The $1,500 scholarship was established by iHeartMedia and is awarded to outstanding college students pursuing degrees in media or communication. Last year's MAP scholarship award winner was another Point Park University student, SAEM major Megan Thorpe.
More About: Rowland School of Business, faculty, School of Communication, transfer, sports, arts and entertainment management, WPXI, journalism, Pittsburgh