more news
Media Career Event Brings More than 40 Employers to Point Park's Campus
Friday, April 6, 2012



On April 3, Point Park's campus was a hot spot for finding internships and jobs as college students throughout the region had the opportunity to network with more than 40 employers at the sports, arts, entertainment, and media career event held in the University's Student Center.
"Our Downtown location makes it easy for top Pittsburgh professionals to take time out of their day to meet face-to-face with students. The combination of the job fair, industry panel discussions, and the networking room really created a unique opportunity for students and professionals to interact," said Paige Beal, M.B.A., associate professor of sports, arts, and entertainment management at Point Park.
According to Angela Meiers, coordinator of employer relations for Point Park's Career Development Center, approximately 260 students and alumni from universities throughout the Pittsburgh region attended.
Panelists at the event came from a variety of organizations including the Pittsburgh Penguins, Pittsburgh Magazine, U.S. Steel, ShowClix, Stage AE, Pittsburgh Ballet Theatre, Girl Scouts of Western PA, and the Pittsburgh Steelers. Among the employers in attendance were the Pittsburgh Cultural Trust, Radio Disney, Visit Pittsburgh, The Talent Group, New Hazlett Theater, Pittsburgh AIDS Task Force, Comcast Spotlight, and the Pittsburgh Zoo and PPG Aquarium.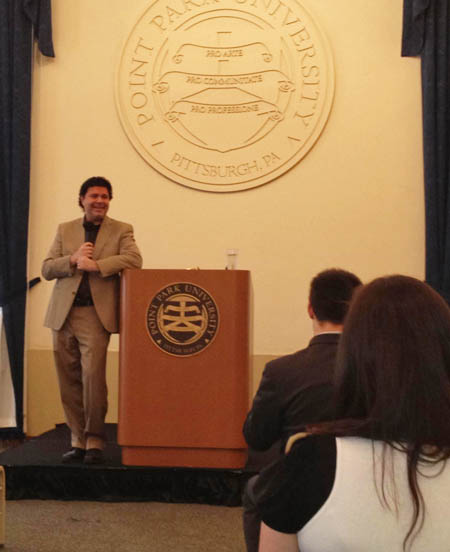 Keynote speaker Jimmy Krenn
Radio host, standup comedian, and Pittsburgh personality Jimmy Krenn wrapped up the event in the Lawrence Hall Ballroom with a behind-the-scenes presentation on his career in multimedia.
"It is important for students and alumni to attend events like this because it gives them a great chance to network with employers. It also helps them learn more about their field, the opportunities various companies offer, and which organizations would be a good fit for them," said Meiers.
SAEM instructor Ed Traversari encouraged Mylan Classic Tournament Director Chase McClain to attend the event. "We are looking to fill our last internship spot and Ed thought this would be a good opportunity for us to find someone," remarked McClain.
Dorothea Rueger, promotions manager for Radio Disney, described Point Park as a "great university for recruiting." "We've hired several Point Park students and alumni so it just made sense to be here," she said.
Point Park advertising and public relations senior Jessica Heinrichs is one of those students working for Radio Disney. "My goal for after graduation is to work full time for the Disney Company so this is a great start," said Heinrichs, who is currently working part time as a promotions assistant.
The main reason Rachel Poropatic attended the event was for the networking opportunities. "I decided to come and see who is hiring. I'm looking for a position in the music industry business but am keeping my options open," said Poropatic, a Point Park senior majoring in sport, arts, and entertainment management.
"The event provided an interactive way for students to meet professionals," said Heather Starr Fiedler, Ph.D., associate professor of multimedia and chair of faculty for Point Park's School of Communication. "And as we know, networking is half the battle during a career search."
For information about various career services offered to Point Park students and alumni, visit the Career Development Center page.