more news
Meet Edward Scott, George Rowland White Endowed Professor, Accounting and Finance
Tuesday, June 10, 2014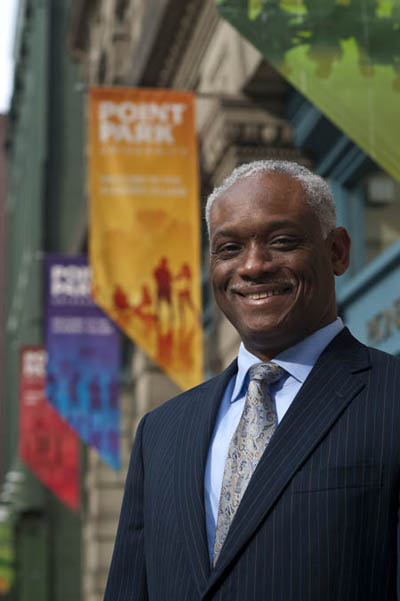 Edward Scott, C.P.A., M.B.A., serves as the George Rowland White Endowed Professor in Accounting and Finance. In addition to teaching, Scott leads Point Park's Urban Accounting Initiative and Accounting Career Awareness Program, which encourage education and careers in accounting and finance, particularly among young minority students.

Scott earned a Bachelor of Science in accounting from Point Park and an executive M.B.A. degree from Texas Christian University.
Describe Point Park's accounting program.
Our class size is typically anywhere from 15 to 20 students so the faculty really get to know you. I have the opportunity to work closely with my students, see what they need assistance with and even recommend them for internships and jobs.
What classes do you currently teach?
Introductory Accounting I and II
Managerial Accounting
Accounting for Managers
Describe your teaching style.
My teaching style is hands-on, professional and my goal is to have students become more analytical in their thought process. I have a lot of corporate and public accounting experience so I bring the real-world application of the academic knowledge that they are receiving. That means a lot to students because you can bring the material to life for them. It's not just black and white text in a book. It becomes much more. When you bring your personal experience from your career into it, they can see that it's for real and learn what they will have to do to succeed in their careers.
---
Related links
Accounting program
School of Business
Schedule a campus visit
Apply online free
What inspires you most about teaching?
The students - particularly if I have the opportunity to have them from day one through a couple of different classes. You get to see their development. As each semester passes, you can see them maturing academically just a little bit more. When you see that, and see that they are hard workers, you really know you are doing something well and that they are doing something well for themselves.
What key message do you bring to your students?
The message I want my students to understand and pay attention to is: You've got to be prepared. Preparedness comes in a couple of different forms. I often ask my students, "What is your G.P.A.? Is it competitive?" and "How are you expanding your networks so that you can be prepared to meet opportunity when it presents itself to you?"
What is it like teaching in Downtown Pittsburgh?
It's vibrant. You have direct exposure to the public accounting firms in the city. When you have that close access to public accounting firms as well as other corporations it makes it a lot easier to provide enrichment-type activities for the students.
What career opportunities are there for Point Park's accounting students?
I always like to tell my accounting students that you really should have a job offer before your senior year because the public accounting firms bring on 20 to 30 students every year depending on the size of the firm. There is no reason you shouldn't have a job if you are doing what you need to be doing as a student. There are a lot of opportunities for entry-level jobs and then the career path is really significant after that if you become a certified public accountant and move on to higher levels of responsibility.

Photo by Martha Rial
More About: faculty, ACAP, accounting, Rowland School of Business, economics and finance