more news
Disney Corporate Hires SAEM 2018 Graduate for Prestigious Professional Internship
Alumni Profile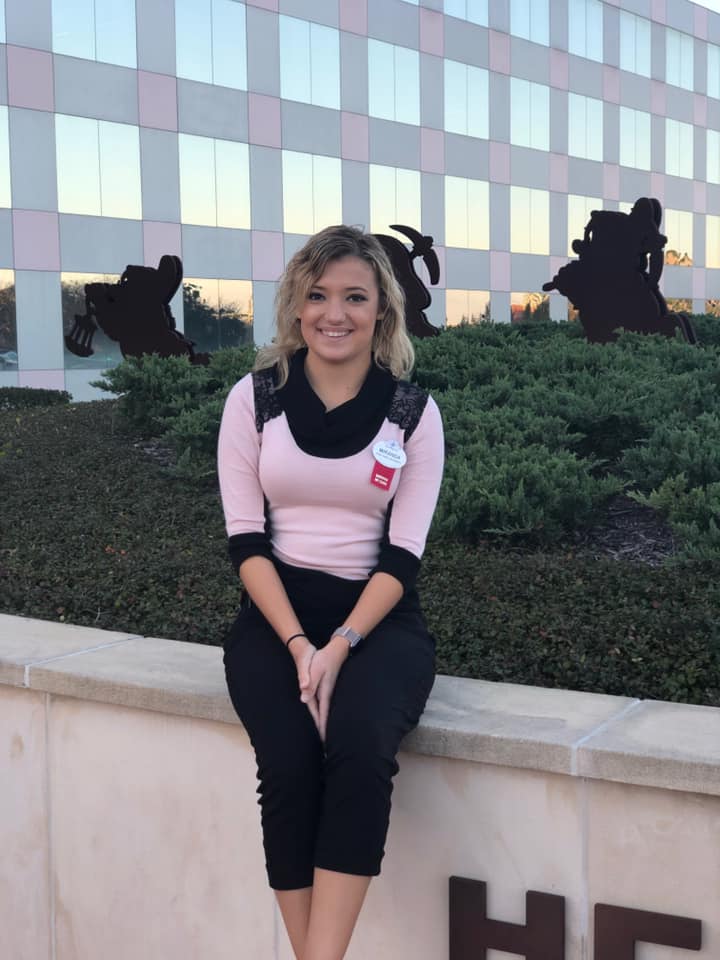 Meet Miranda Peel
Job Title & Employer

Guest Experience Services Professional Intern, Walt Disney World Parks and Resorts

Major

Sports, Arts & Entertainment Management

Graduation

December 2018

Hometown

Lower Burrell, Pa.

High School

Burrell High School

Now Living In

Orlando, Fla.

Dream Job

I would love to be a leader/coordinator with attractions or stay in Guest Experiences Services!

Hobbies & Interests

Theme parks, entertainment and dancing
"My sports, arts and entertainment management classes really prepared me to not be afraid to put myself out there in the entertainment world."
Miranda Peel
Tell us about being accepted into the exclusive Disney Professional Internships Program.
During my internship with the Disney College Program from 2016 to 2017, I researched Disney's Professional Internships. Truthfully, I never thought that I would be accepted into the program. It is much more competitive than the College Program. Only one to three percent of applicants are accepted. It was such an amazing feeling when I finally received the offer. It certainly was a dream come true.
What type of work are you now doing for Disney?
My position is with the Guest Experience Services. I am responsible for guest services post visits. I am the "us" behind the "Contact Us" on the Walt Disney World website. This role is much different than the role I did with the College Program. I am no longer in the parks assisting guests.
The department that I work in is located at Team Disney. Team Disney is where a lot of the behind-the-scenes magic is made and is equivalent to a corporate office for Disney. I work directly with the guests via phone and email. This position definitely challenges me and brings out my creativity.
How have your SAEM classes helped you and led you to this point in your Disney career?
My sports, arts and entertainment management classes really prepared me to not be afraid to put myself out there in the entertainment world. The Career Prep class I had my sophomore year with Angela Scaramucci from the Career Development Center taught me how to compose my resume and also prepared me for the interview process. I found it so helpful when I went to apply for my first Disney College Program experience and then for my internship at Cedar Point Amusement Park. If it wasn't for Career Development, I would not have been prepared for interviews.  
Another one of my SAEM classes that helped with my Disney career was Personal Branding with Professor Derda. We did an activity where we had to make sales phone calls for the Playhouse. I was so nervous for this activity because I was not comfortable doing phone calls like that. However, after making a couple calls, I actually found myself really enjoying it, which helped me in the long run since now I do make several phone calls a day to guests!
What are your favorite Point Park memories?
I have so many memories at Point Park that it is so hard to pick one! Overall, I will always cherish how supportive the SAEM department has been throughout my journey. From finding out the first time that I got accepted to the Disney College Program to now my professional internship, they were all so happy and supportive. Being a part of a great department at a great school is probably my favorite memory! 
What advice do you have for our students interested in a career with Disney?
My advice for any student who has interest in a career with Disney: DO IT. The Disney College Program has opened up so many opportunities for me and has changed my life! If you have a slight interest in doing the College Program, APPLY! Don't let anyone or anything stop you from pursuing your dreams!  Dreams certainly DO come true! All it takes is a little faith, truth and pixie dust!
Connect with Miranda Peel
More About: alumni, Burrell High School, Rowland School of Business, sports, arts and entertainment management, Career Development Center, internships