more news
National Alliance for Musical Theatre Welcomes SAEM Professor as a Panelist
Tuesday, April 17, 2018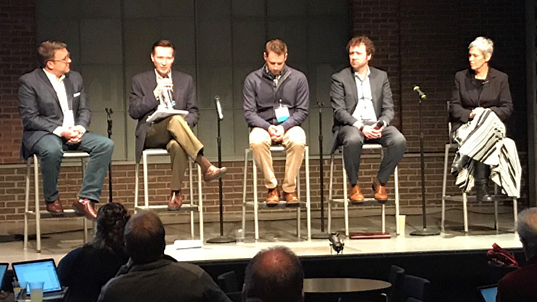 Pictured left to right: Jeff Loeb, Ed Gilchrist, David Seals, James McNeel and Paige Beal
The National Alliance for Musical Theatre welcomed SAEM Chair and Assistant Professor Paige Beal, M.B.A., as a panelist for their recent seminar titled "What Are We Selling ... and to Whom?" held at the Cabaret at Theater Square in Downtown Pittsburgh.
Moderated by Jeff Loeb from Hollywood Pantages, the panel featured Beal along with Ed Gilchrist from Walnut Street Theatre, Jamie Lilly from Village Theatre, James McNeel from City Theatre Company and David Seals from TRG Arts. 
According to Beal, the panelists discussed how marketing an individual show differs from marketing an institution as a whole, how to develop strong artistic brands to build people's trust and how patrons' first entry points — a specific show, special event or community engagement — can lead them to other programming and a lifetime of loyalty.
Learn More
Explore the sports, arts and entertainment management major in the Rowland School of Business at Point Park University.
Request information, schedule a campus visit or apply online.
More About: faculty, sports, arts and entertainment management, Rowland School of Business, Downtown Pittsburgh