more news
Get Career-Ready with: Nila Payne '26, Sports, Arts & Entertainment Management Major
Student Profile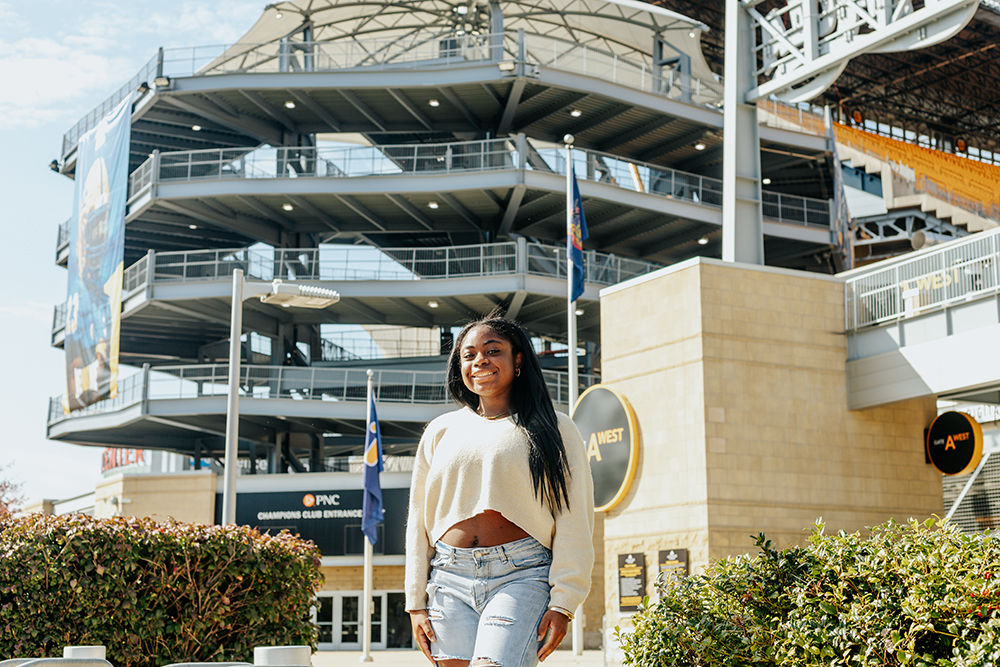 Photo by Ethan Stoner '26
Meet Nila Payne '26
Job Title & Employer

Pinterest creator, Sports Girls Club

Job Title & Employer

Guest experience associate, Acrisure Stadium

Major

Sports, Arts & Entertainment Management

Minor

Digital marketing

College Activities

Black Student Union, Pioneer Records and Campus Activities Board

Hometown

Glassboro, N.J.

High School

Gloucester County Institute of Technology

Now Living In

Pittsburgh, Pa.

Dream Job

Anything in the sports or music industries would be a dream for me!

Hobbies & Interests

Reading, baking, listening to music and content creation. I recently started working on a podcast so that's a new hobby of mine, too!
"Point Park is really a special place, and you'll get opportunities here that you won't get anywhere else. In less than two years, Point Park has helped me grow into a better and more confident person, especially from a career perspective."
Nila Payne '26
I grew up in a family of athletes, and I was a competitive dancer for over a decade. I knew that I wanted a career involving sports or music since both have been such huge parts of my life. After looking at many schools, Point Park's Sports, Arts & Entertainment Management program and the connections it offers stood out from the crowd. I wanted to find a place where I would feel comfortable learning and have access to equal opportunities in both the sports and music industries without a double major. Point Park's SAEM program meets both of those needs!
What do you like about the coursework and faculty?
The SAEM coursework is designed to give students so much hands-on experience, and everything I've learned I've been able to apply outside of class. The faculty provide opportunities to gain experience in our chosen field, and they genuinely have our best interest at heart. It's so easy to confide in the professors here, and being able to tap into their input and help really changes the game. They are passionate about what they do and committed to helping us reach our goals, which is one of the best things about going to school at Point Park.
What are some of the activities you have been involved in on campus? 
I have been really involved in the Black Student Union (BSU) over the last year. I attend their meetings, and I've participated in several events with them, like UNO tournaments, a "Chopped" competition and a trip to the National Museum of African American History and Culture in Washington, D.C.! Everyone on the BSU board is so fun, kind and welcoming, and they do a great job at creating a space for Black students, but, of course, everyone is welcome! I've also attended Pioneer Records' karaoke nights at Creative Coffee Supply. Those are always so much fun, and they're a great way to make new friends!
What do you like about living and learning in Downtown Pittsburgh?
Living in Downtown Pittsburgh is great because while Pittsburgh is a city, it's still pretty small, which works to your advantage as a student! The business community is very interconnected, which makes for excellent networking opportunities. There's also always something going on, from ice skating in PPG Place and sporting events at the city's various venues to the Market Square Farmers Market. There is something here for everyone, and the sense of community here among Pittsburghers is really nice.
Over the summer, I started interning with Sports Girls Club, a nonprofit organization focused on providing resources to women in college who are pursuing careers in the sports industry. As a creator for their Pinterest account, I post twice a day and create mood boards and graphics on Canva to post on our page. As part of our degree requirements, Sports, Arts & Entertainment Management majors can take classes in either Problem-Solving with Information Technology or Graphic Design, and taking Graphic Design really helped me with this position. Our professor, Dr. Dan Haun, talks a lot about being a creative, doing your best work and staying motivated, in addition to the basics of graphic design. As a person who works in a content creation position, his lessons have been crucial for me. Like the rest of my classes at Point Park, his teachings are directly applicable to my work outside of the classroom.
Working at Acrisure Stadium has been such a good experience for me. I started my role there in April working the summer concerts and enjoyed it so much that I decided to stay through football season! During concerts and football games, the environment is just electric, and it's an unexplainable feeling. Getting experience like this is essential for someone like me who has an interest in different sections of SAEM, and it's helped me to narrow down where I want to go with my career in sports.
What are three things every Pioneer should check out around Pittsburgh?
Every Pioneer should go to at least one Pittsburgh Steelers game, especially because the team now offers student rush tickets! I also recommend going to a themed rave/party at the Roxian Theatre, and every music lover should check out Jerry's Records and catch a concert at Stage AE! 
Why would you recommend Point Park to a prospective student?
Point Park is really a special place, and you'll get opportunities here that you won't get anywhere else. In less than two years, Point Park has helped me grow into a better and more confident person, especially from a career perspective. The University community is very supportive, and going to a smaller, private school allows you to bond with your professors and classmates. From a social standpoint, practically everyone knows everyone here, which creates a sense of warmth. With our campus in the heart of Downtown Pittsburgh, we fall right outside of, if not right in the middle of, many big city events like holiday parades, Picklesburgh and events at Point State Park or Market Square, so you never have to go too far for fun.
Connect with Nila Payne '26
More About: success story, Rowland School of Business, Downtown Pittsburgh, Get Career-Ready, sports, arts and entertainment management, Pittsburgh, Pittsburgh Steelers, internships