more news
Pioneer Records Hosts CD Release Party for Student Artist Hannah Jenkins
Monday, April 27, 2015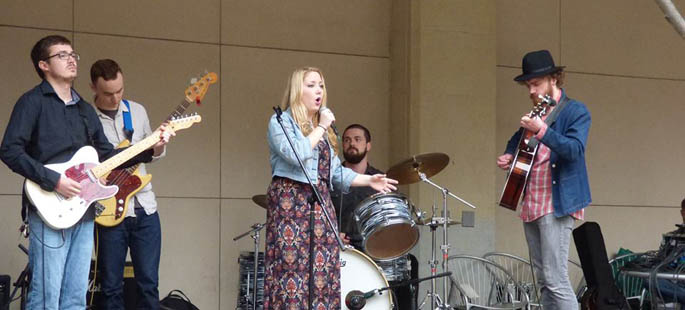 Jenkins performs with the band Lone Wolf Club. Photos by David Rowell, SAEM assistant professor
Hannah Jenkins, the first artist featured on Point Park's new record label, Pioneer Records, performed live for a crowd full of students, faculty, staff, news media and the public in Village Park April 17.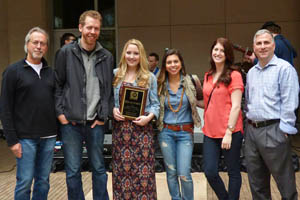 The CD release party was hosted by the sports, arts and entertainment management program.
Jenkins performed an hour set of music, both acoustic and with the band Lone Wolf Club, while copies of her CD, titled Something Out of Nothing, were sold at the event.
"I couldn't have asked for a better day. I had such a blast and it was so awesome being able to finally share with everyone what we've been working so hard on with Pioneer Records," remarked Jenkins, a sophomore SAEM major.
Pioneer Records is housed at Red Caiman Media, a commercial recording studio in Pittsburgh's Uptown section.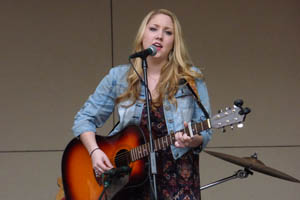 Through Point Park's partnership with Red Caiman, students have access to the studio's recording and production rooms, allowing them to acquire firsthand experience on the various aspects of a record label.
"This event was a great opportunity to showcase music from Hannah's new CD while celebrating the first year of Pioneer Records," said Ed Traversari, associate professor of sports, arts and entertainment management.

Traversari added: "Every semester, we plan to have CD release parties like this for the artists and bands we select."
Media Coverage of Pioneer Records
Learn More
More About: Pioneer Records, sports, arts and entertainment management, Downtown Pittsburgh