more news
Pioneer Records Launches Third Season of On-Campus Radio Show
Wednesday, February 5, 2020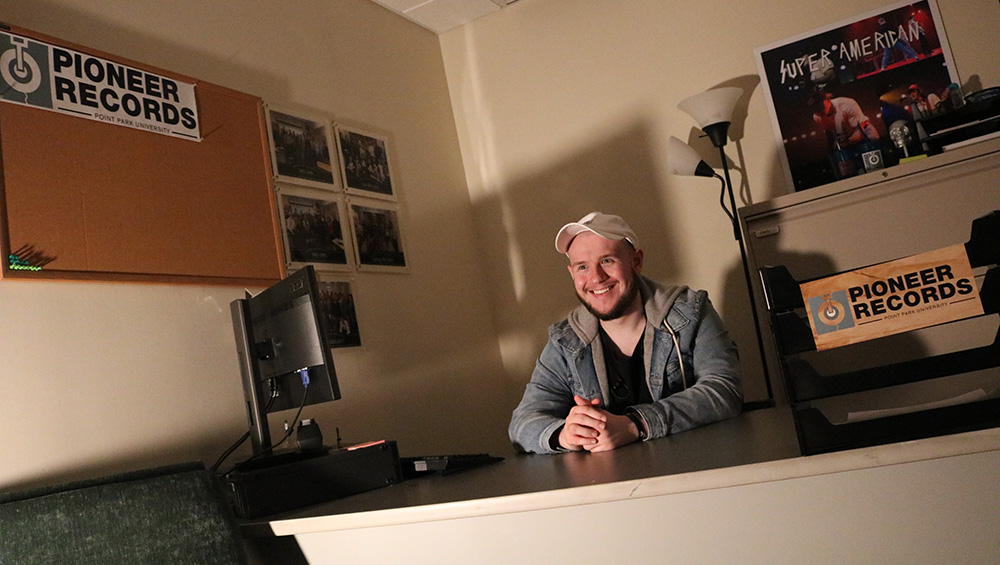 Pictured above is Derek Makin, senior SAEM major, host of "Backstage with Pioneer Records" and talent director for Pioneer Records.
Photo by Dana DeSantis, junior SAEM major and d

irector of marketing, PR and social media for Pioneer Records.
Pioneer Records, Point Park University's student-operated record label, will launch their third season of "Backstage with Pioneer Records," the label's on-campus radio show, Feb. 7, 2020.
The radio show is hosted by senior sports, arts and entertainment management major Derek Makin (D.A. Makin) and airs every Friday from 5 to 6 p.m.
"This show is for listeners to have a safe space to be heard and learn about the careers and positions in the entertainment industry that people dream of having," Makin said. 
"Backstage with Pioneer Records" airs on WPPJ radio, the University's student-run mixed format radio station and has brought in multiple big-named experts, such as Johnny Goood, Lady Gaga's bass guitarist; Doltyn Snedden, photographer and videographer for Lynyrd Skynyrd and Matt Colussy, former tour manager of the band, All Time Low.
Season three of "Backstage with Pioneer Records" will feature live performances, professional interviews and themed shows centered around local music talent, seasonal holidays and special events.
According to Makin, Pioneer Records finds guests for its radio show based on what their listeners want to learn more about.
To get your voice heard on air, email pioneerrecords@pointpark.edu, connect with Pioneer Records on Instagram, Twitter and Facebook or call into the WPPJ show at 412-355-5669.
More About: WPPJ, Rowland School of Business, radio station, Pioneer Records