more news
Pittsburgh Chapter of the Project Management Institute Discusses Opportunities for Students
Wednesday, October 31, 2018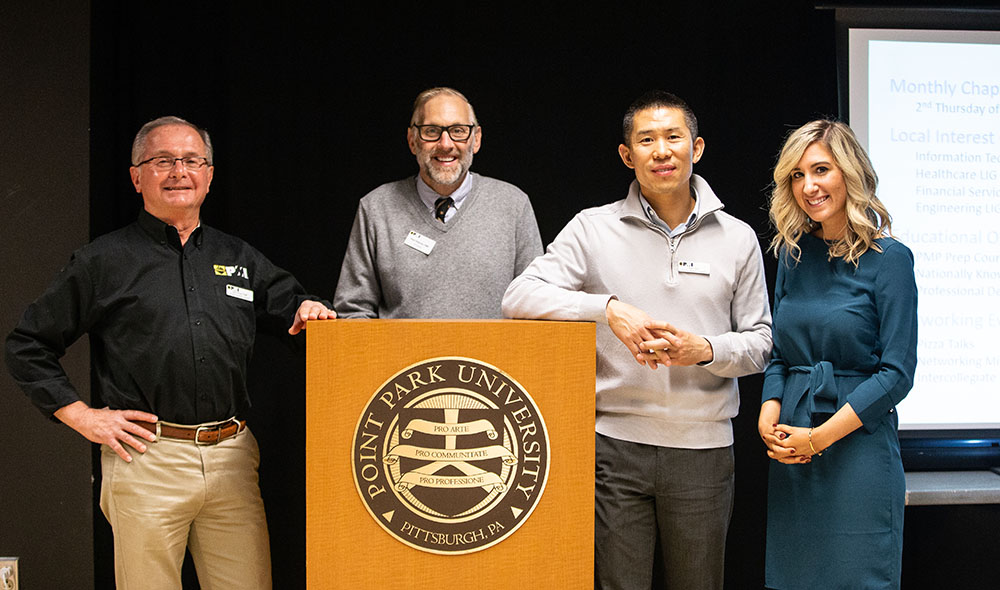 Members of the Pittsburgh Chapter of the Project Management Institute recently visited campus to discuss scholarship, networking, mentoring and other opportunities they can provide to students.
Angela Isaac, Ph.D., professor of economics and finance in the Rowland School of Business, arranged the presentation, which included a keynote speech by Sam Provil, project management trainer and president of Provil & Associates.
According to Isaac, additional student events with PMI will be held at Point Park throughout the academic year.
"I decided to attend this event due to my desire to obtain my Project Management Professional certification. I was exploring affordable options to accomplish this and was very pleased to find that this session was being offered," explained Antoinette Shaw, a junior double majoring in human resource management and information technology.
"There are many opportunities for students and available support through the collegiate engagement efforts of PMI Pittsburgh," added Shaw, a nontraditional student and graduate of Pittsburgh Schenley High School.
Daja Brown, a junior business management major from Plainfield East High School in Chicago, Ill., said: "I learned more about the project management field and how it can be a very well-paying profession."
Brown's career goals are to be a business entrepreneur and startup business investor.
"At the event, I learned that PMI has a lot of scholarship opportunities for students at various levels," said Yasha Breslove, a senior interdisciplinary design major from City Charter High School in Pittsburgh.
Breslove added: "The generosity of Point Park's faculty has been truly invaluable as they have and continue to support me and my goals of pursuing internships (including one that I recently accepted with Literacy Pittsburgh as an ESL tutor), and beyond that, graduate school. Their feedback, honest references and encouragement have been instrumental, particularly now with applying to schools. They are also helping me to make sure I finish strong in the classes I have left before graduation."
More About: human resource management, business management, information technology, interdisciplinary studies, student workshop, economics and finance, Rowland School of Business