more news
Pittsburgh Rapper Wins Rowland School of Business' Vigor, Vibe and Venture Contest
Thursday, November 12, 2020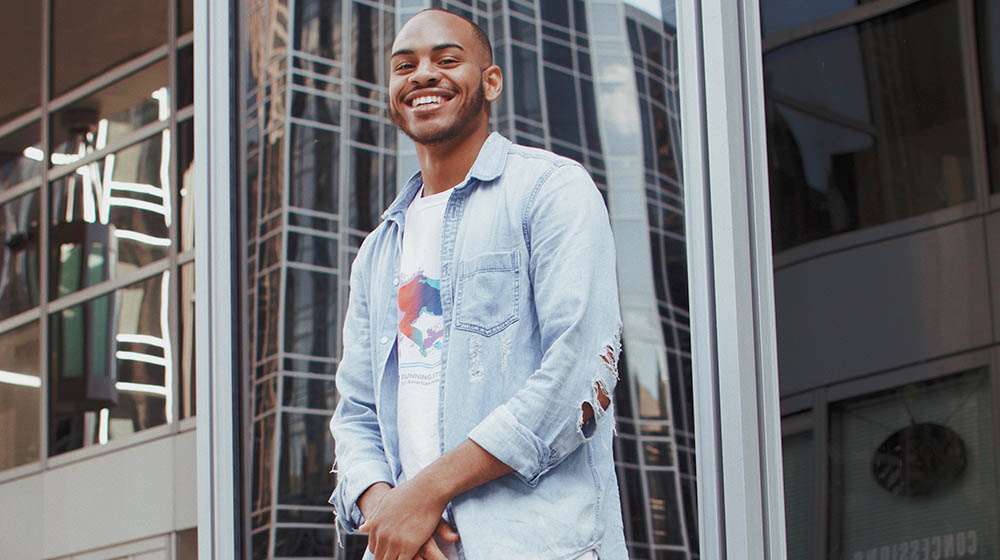 "I want my music to give young men the power to be authentic, so they can be stronger in their identity, more optimistic and socially active by pushing themselves and their communities forward."
Yusef Shelton, Vigor, Vibe and Venture (V3) Challenge Winner
A motivational rapper, community activist and performer has captured the $10,000 prize in the Point Park University Rowland School of Business' inaugural Vigor, Vibe and Venture (V3) contest.
Yusef Shelton, a 24-year-old native of Pittsburgh's Homewood neighborhood won the V3 competition November 1 at Point Park University. Shelton impressed the judges with his desire to bring positivity and empowerment to young Black men through his inspirational messages, music and performance.
He will receive a $10,000 check at a presentation at Point Park University on Thursday, Dec. 3. The event will be held in West Penn Hall at 6 pm. 
"Shelton embodies what we had in mind when we created this competition," said Steve Tanzilli, J.D., dean of the Rowland School of Business. "That is, awarding a product or initiative that will have a positive impact on the community at large. When we met Yusef, we were impressed with the dedication he puts into his messaging and his rap music. For a young man who has overcome so many challenges, his messages are hard-earned and genuine."
"In my rap, I hope to ignite purpose in the hearts of young Black men, specifically those without parental guidance," Shelton said. "I want my music to give young men the power to be authentic, so they can be stronger in their identity, more optimistic and socially active by pushing themselves and their communities forward."
His business plan includes outreach to local radio stations, releasing weekly music videos on his social platforms and connecting with Pittsburgh festivals and other venues that offer opportunities to reach a wider audience. Prior to the pandemic, Shelton was scheduled to perform in several Pittsburgh Public Schools. He also wants to ensure his writing and music is properly copyrighted. 
Above to Below, a Pittsburgh-based marketing company and co-presenter of V3, will offer Shelton a year of mentoring and marketing input.
"Yusef has a very strong sense of what he wants his art to be about, and he understands that he needs strong clear messages to make that happen," said Jennifer Ferris-Glick, a co-principal of Above to Below. "That's what we hope to help him with. He's smart, talented and eager to get started, and so are we."
The $10,000 prize money was donated anonymously by a 1999 Point Park University graduate.
Shelton was one of 10 finalists who presented before a panel of judges. The V3 competition will be an annual event at the Rowland School of Business. Visit pointpark.edu/V3 for more information on next year's competition.
More About: Rowland School of Business, alumni