more news
Point Park University's Pioneer Records Opens Official Headquarters on Downtown Pittsburgh Campus, Announces 2023-24 Pioneer Stars
Monday, November 13, 2023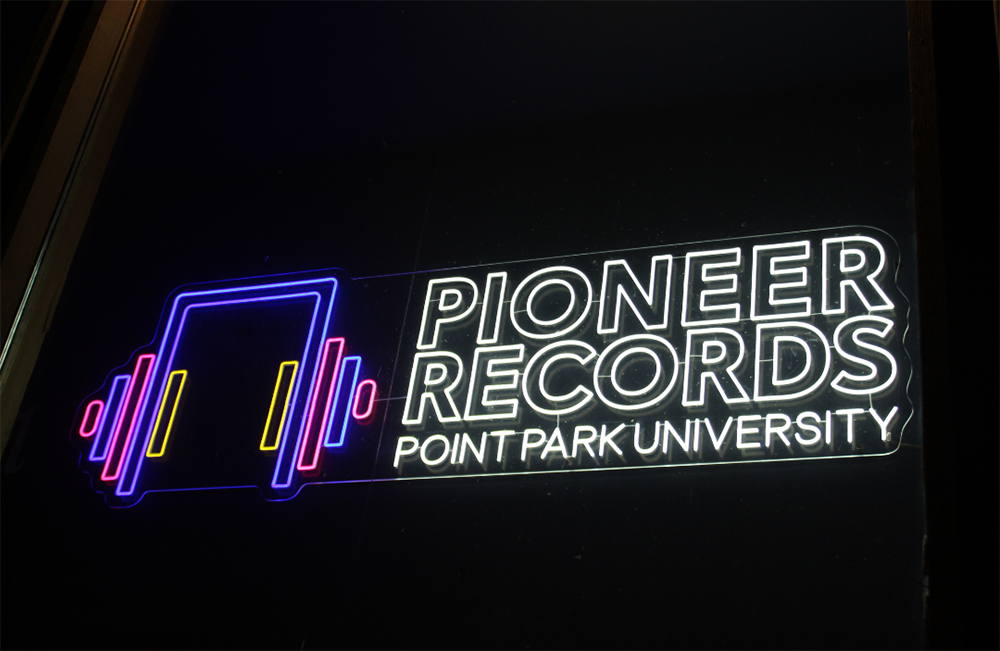 Point Park University students aspiring to work in the music industry now have an on-campus space to explore their interests as the student-run record label Pioneer Records opened The Sound Vault, a new home for Pioneer Records and a multi-use rehearsal space. Pioneer Records, which connects students with experiential learning opportunities in the music business, is a program of Point Park's Rowland School of Business, born out of the Sports, Arts & Entertainment Management degree program.
"The new Pioneer Records space has allowed our directors, interns and volunteers to work in an environment that is designed to help us grow as business individuals in the entertainment industry," said Delaney Metikosh '24, a Sports, Arts & Entertainment Management major and director of marketing, PR and social media for Pioneer Records. "The new space allows us to hold meetings and brainstorming sessions in our very own conference room and host live performances in our new rehearsal/jam room. I crafted the idea to name it The Sound Vault because it encompasses the vision we strive to portray as a record label." 
Located at 321 First Avenue, around the corner from Point Park's on-campus coffee shop Point Perk, the 625-square-foot street-level space features a small stage area, sound control elements, new carpeting, furniture and exposed brick walls. The Sound Vault rehearsal and jamming space is available to all Point Park students and members of the campus community.
"We have heard from students how great it would be to have a place on campus where musicians, singers and other artists can come together to play and perform so The Sound Vault was really created for them," said Ed Traversari, professor of Music Business in the Sports, Arts & Entertainment Management program. A veteran of the live music and entertainment industry, Traversari directs the Pioneer Records program at Point Park.
A new home for Pioneer Stars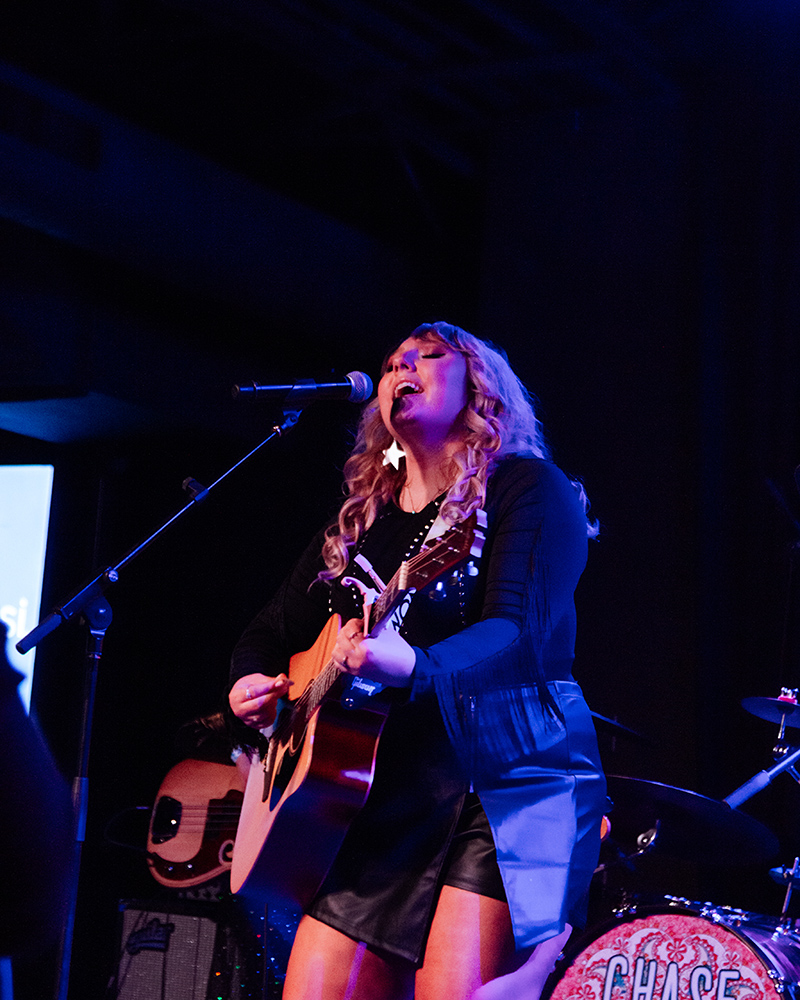 2022-23 Pioneer Star Bryana Appley
The Sound Vault also benefits the record label's Pioneer Star program, through which students gain learning opportunities in artist development and management, marketing, public relations, advertising and music, film and event production, as they work directly with industry professionals along the way.
Pioneer Stars are chosen by Pioneer Records staff, Rowland School of Business faculty and Red Caiman Studios owner and producer, Jesse Naus. This year's Pioneer Stars are James the Seventh, Leandro Bilello and The Pit Crew. Each Pioneer Star artist will receive a professionally recorded single, branding package and opportunity to play live at the end-of-the-year release party at Stage AE. One artist will receive a music video created in collaboration with the Cinema Arts department at Point Park, and one will be gifted a Gibson guitar through the Gibson Foundation, Gibson Gives, a supporter of Pioneer Records. 
"Many of our Pioneer Records artists continue to perform professionally or have segued to other aspects of the music business and that's what this program is all about – finding your passion in the music industry and where you fit in," Traversari said. 
Pioneer Records will host the 2024 Pioneer Star Showcase at the Club at Stage AE, located on the North Shore, in April 2024.
"I'm so excited to be a Pioneer Star this year because I've been wanting to connect with other people locally who are as passionate about music as I am," said Bethany Latham, stage name James the Seventh, a native of Bethlehem, Pa. and senior at Point Park. "I'm looking forward to learning, challenging myself, and growing as an artist through the Pioneer Stars process."
'Opportunities they won't find elsewhere'
Pioneer Records acts as a learning laboratory that provides students with real-world music industry experience and opportunities to work directly with artists, studio engineers, venue managers and other industry professionals.
"As part of our Sports, Arts and Entertainment Management program, our University-run Pioneer Records is unique in this region," said Stephen Tanzilli, J.D., dean of the Rowland School of Business. "As educators, it's critical for us to offer our students opportunities they won't find elsewhere that can help pave the way, both artistically and professionally." 
In addition to Pioneer Records, students majoring in Sports, Arts and Entertainment Management have access to a variety of hands-on experiences throughout Pittsburgh. Faculty connect students with opportunities to work at high-profile concerts, with Taylor Swift and Morgan Wallen among the highlights from last summer. For students interested in sports and arts, Point Park's sports sales and sports events teams work directly with major league franchises, while Point Park's Downtown Pittsburgh location places students within walking distance of opportunities in the Cultural District and the city's many performance venues. 
---
Follow Pioneer Records
View this profile on Instagram
---
Learn more about Professor Traversari's extensive music business career in the video below:
More About: Pioneer Records, Downtown Pittsburgh, sports, arts and entertainment management, Stage AE, Rowland School of Business, faculty, Pittsburgh