more news
Point Park Veterans Joint Leadership Event Features Downtown Pittsburgh Field Exercises
Wednesday, October 5, 2016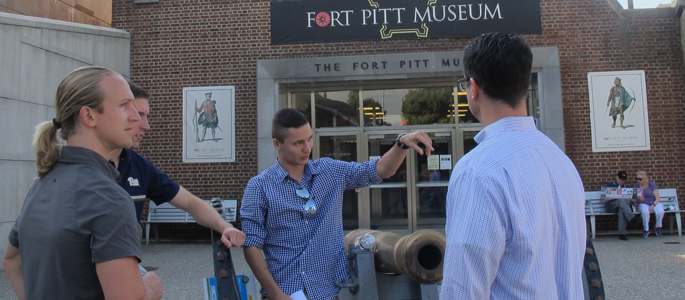 Point Park student Morgan Logan (pictured in center) leads his fellow veterans on a field exercise throughout Pittsburgh.
Point Park University's School of Business hosted its second Veterans Joint Leadership Initiative event Sept. 23, which included team field exercises throughout Downtown Pittsburgh, followed by a conference on campus to discuss issues related to effectively reintegrating veterans into the workforce.
Led by Patrick Mulvihill, Ed.D., visiting assistant professor of business, the event brought together the Point Park community with representatives from a variety of organizations including PNC Bank, FedEx, Duquesne University, University of Pittsburgh, PAServes, the 171 st Airwing, the 303 rd Psychological Operations Company and the Southwestern PA Veterans Chamber of Commerce.
"I participated in the event because I wanted to network with Pittsburgh's veteran community and veterans leadership community, hoping to build awareness of the PAServes Greater Pittsburgh network," explained Matt Feldhaus, a Pennsylvania National Guard Army veteran and program manager of community services for the Institute for Veterans and Military Families at Syracuse University.
Point Park intelligence and national security student Morgan Logan, who is also an M1 Armor Crewman in the Pennsylvania Army National Guard, decided to participate in the event due to the suggestion of Sean Elliot Martin, Ph.D., instructor in the Department of Criminal Justice and Intelligence Studies.
"He explained that the event was geared toward helping veterans and I was all over that. I love helping my brothers and sisters whenever and wherever I can," remarked Morgan, who graduated from Wilmington Area High School in New Wilmington, Pa.
Video from Veterans Field Exercise
"I had an absolute blast as a tour guide for the field exercise. It was wonderful to enjoy the company of fellow veterans and watch them interact with business leaders from the area," he added.
The field exercise, which began in Point Park's Village Park, challenged teams made up of active duty military, veterans and civilians to navigate to historical landmarks including the Fort Pitt Museum, The David L. Lawrence Convention Center and the Smithfield Street Bridge for further discussion.
"These landmarks had strategic significance to this year's conference and set the stage for a great afternoon of networking and conversation about veterans workplace issues," Mulvihill said.
"It's an honor to provide the opportunity to bring the veteran community together each year," he added.
Learn More
Read the Pittsburgh Business Times article on the Veterans Leadership Initiative: " Point Park conference aims to help returning veterans find jobs."

Learn more about veterans benefits and the variety of undergraduate and graduate programs offered at Point Park. Request information, schedule a campus visit or apply online.

Video by Daniel Kelly, a freshman cinema production major
More About: Rowland School of Business, intelligence and national security, veterans, faculty, Downtown Pittsburgh