more news
Public Administration Student, Faculty Lead Firefighter Training
Wednesday, August 12, 2015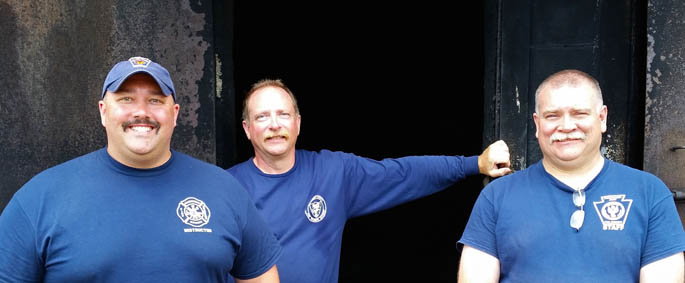 (L-R) Tony Zoroya, Robert Skertich and Thomas Cook stand in front of a practice burn building at the Allegheny County Fire Academy.

Public administration student Tony Zoroya, along with Robert Skertich, Ph.D., associate professor, and Thomas Cook, M.B.A., adjunct instructor, led a 170-hour entry-level firefighter training course this summer at the Allegheny County Fire Academy.
"Training new firefighters this summer with Professors Skertich and Cook made me realize fire service education has become a calling for me," remarked Zoroya, who works as a transport coordinator for STAT MedEvac.
According to Skertich, the students conducted various firefighter drills including a real interior firefighting exercise.
"Working with new firefighters is such a rewarding experience. I get the same enjoyment out of expanding college students view of the world in my Political and Legal Foundations of Emergency Services class," explained Cook, who is also assistant chief of Pittsburgh Bureau of Fire.
"Point Park has given me the opportunity to work and mentor alongside my professors. I have found the students, professors and staff to be some of the brightest, kindest and most helpful people I have ever met," said Zoroya.
Zoroya added: "Deciding to go back to school and finish my degree has been one of the best decisions I've made and I'm looking forward to a lot of open doors after I graduate in May."
Learn More
Visit Point Park University's public administration page to learn about the variety of degrees, concentrations and certificates the program offers.
More About: faculty, Rowland School of Business, fire service administration, public administration