more news
Rosemarie Papariella Selected as Point Park's PICPA Outstanding Accounting Senior
Thursday, May 30, 2013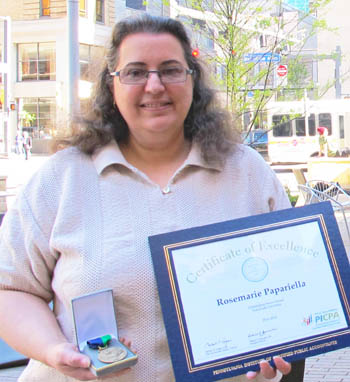 Pursuing Accounting
When the university where Rosemarie Papariella was teaching math at decided to downsize, she knew she had to pursue another profession.

This is where Papariella's journey to Point Park - and being named a Pennsylvania Institute of Certified Public Accountants Outstanding Accounting Senior - began.

As the treasurer of her church, Papariella began thinking about how much she liked accounting and decided that it would be a good field to pursue.

"Accounting is a solid profession and I knew that it would provide well for my family," explained Papariella, a wife and mother of two daughters.
Choosing Point Park
"I looked through all the accounting programs across Pittsburgh and found that I liked that Point Park allowed students who have already earned college credits and degrees to go right in and just take the business and accounting courses they need to earn an accounting degree. Plus, I have always heard good things about Point Park," she said.

After enrolling at Point Park, Papariella soon became involved on campus, becoming a member of the Student Accounting Association and competing in the 2012 PIIA/PICPA auditing case study competition, in which her team was named a finalist.
Being Named a PICPA Outstanding Senior
According to the PICPA website, the PICPA Outstanding Senior Award is given to students who shine in academia, express a serious interest in accounting and demonstrate a desire to pursue a career in the accounting field.

"Rose was selected for this award because she is top notch academically and serious about a career in accounting. She stood out as a leader among her peers. Rose always was more than willing to share her thoughts on how to approach challenging accounting assignments with her fellow students and they very much appreciated her perspective," said Associate Professor of Accounting Cheryl Clark, CPA, M.B.A.
The Point Park Experience
"My accounting colleagues always treated me as one of their peers, except for the times in class when they were surprised I could remember events that happened before they were born," said Papariella with a laugh.

"Being a teacher myself, I can truly say that all of the accounting professors were great. It's been a wonderful experience at Point Park," she added.

Papariella is currently teaching calculus as an adjunct instructor for the Department of Natural Sciences and Engineering Technology and pursuing a full-time job in accounting. She'd like to work in either tax accounting or payroll.

"Rose will be an asset to any organization that hires her. She has the attributes of a top-notch accountant," said Clark.
More About: student competition, accounting, Rowland School of Business, scholarships, Student Accounting Association