more news
SAEM and Dance Double Major Interning at Walking Thumbs
Thursday, July 19, 2012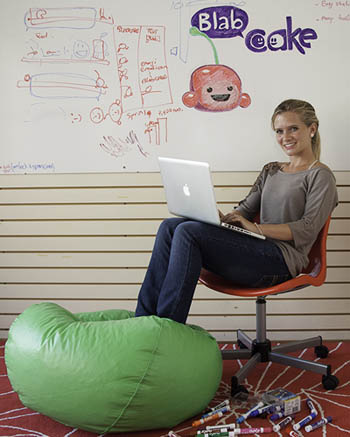 Meet Hannah Finch
Major: Double majoring in sport, arts and entertainment management and dance
Internship: Walking Thumbs
Expected graduation: May 2013
College activities: Community facilitator, Community mentor, COPA apprentice and a member of the Body of Christian Fellowship
Hometown: Hopewell Junction, N.Y.
Why did you choose to attend Point Park University?
I attended International Summer Dance at Point Park just before my senior year of high school. I quickly fell in love with Point Park, the versatility of the dance program, the facilities, instructors and the city. The fact that the dance program excels in ballet, jazz and modern is amazing. When I discovered the SAEM program, which is quite unique to Point Park, I was sold. While most programs focus on only arts, entertainment or sports management, the SAEM program combines all three to prepare students in a vast array of fields.
Why is a double major in dance and SAEM a good fit for you?
Dancing is absolutely wonderful. I love the challenge and how it makes me feel. I enjoy learning and I don't think that such development should be limited to a studio. A dance degree combined with a SAEM degree was perfect for me. The SAEM program doesn't deter from my dance potential, it adds to it. When I audition for companies I have a competitive edge. Not only do I have excellent conservatory training, but I'm also prepared to work on marketing, graphic design, event planning and venue management.
Please provide an overview of your summer internship.
I'm working with Walking Thumbs, a start up company founded by Carnegie Mellon University alumnus John Feghali. It's a combination of both an internship and a job: an internship because it is understood that I want to learn from the experience, and a job because I am taken seriously, have responsibilities, and best of all, I receive compensation for my work. The company is currently working on creating two iPhone apps. The first app, BlabCake, is a playful texting platform that brings a whole new level of interaction to texting conversations. I'm helping with product redesign by organizing focus groups, analyzing responses and participating in team brainstorming.
The second app, a breakaway from BlabCake, has a dance aspect. I'm serving as the company's 'dance dictionary,' working to develop the needed movements. I developed a system to organize music and dance styles, and then created libraries of movements linked to their relative music styles. From there, I documented myself completing all of the movements and share with the animators. I'm also working with the company founder to develop and implement the marketing plan.
How did you find out about this internship opportunity?
I learned about this position from Amy Bittner, a COPA career counselor. This internship is exactly what I was looking for. I'm working in a dynamic workplace that allows me to explore and combine my studies and interests.
How will this internship help you with your career goals?
This experience is an amazing resume builder and I learn something new every day. It looks as if I will have the opportunity to continue working with the company this fall. I'm excited to see what connections and possibilities I am yet to discover.
Photo by Remington Brooks

More About: Career Development Center, internships, sports, arts and entertainment management