more news
International Summer Dance Program welcomes students and faculty from around the world
Monday, July 2, 2012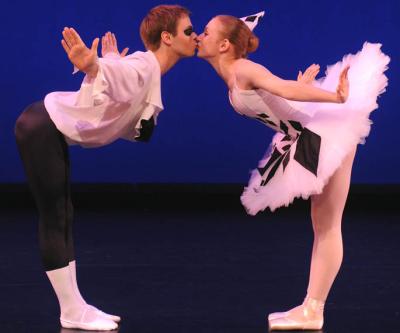 Point Park students in 'Harlequinade.'
Point Park welcomes 250 dance students from around the world for the 27th annual International Summer Dance program, June 17 - July 28. The program is open to students ages 10 or older. Nationally and internationally-recognized teaching artists provide training on campus in ballet, jazz and modern for performances at the end of the program in the Dance Complex's state-of-the-art George Rowland White Performance Studio.
"Students in the program train under the direction of an experienced faculty and get a sense of what it's like to live on a college campus. As a result, many of the participants become Point Park students," said Michael Shahen, Summer Dance & Theatre Program director.
Recent dance graduates Kimberly Marcotte, of Virginia Beach, Va., and Hank Hunter of Pittsburgh, said experiencing the summer intensive influenced their decision to attend Point Park.
"I loved the program not only for the intense schedule, but for the versatile training it offered," Marcotte said. "I graduated from high school and thought I was ready for the professional world but was convinced to give college a chance."
Hunter added that he wanted to attend Summer Dance before selecting a college. "Participating in the program made me certain that I would have four years of solid training with teachers I enjoyed. It's rare to be able to train so intensely in ballet, jazz and modern all in one intensive. As a result, I learned how to take care of my body so that I could endure a 12 hour dancing day when I came to Point Park."
Hannah Finch, a senior from Hopewell Junction, N.Y., double majoring in dance and sport, arts and entertainment management, said she learned about the Summer Dance program when she began her college search. "I had never been to a dance intensive and wanted to give it a try. I instantly fell in love with Pittsburgh and the dance program at Point Park. I felt like I had an advantage coming in as a freshman because I knew the faculty and had a better sense of the campus in general."
"Summer Dance students may receive college credit for their participation in the six-week program," said Artistic Director and Dance Department Chair Susan Stowe.
Students interested in attending next year's International Summer Dance program are advised to check the audition schedule available online in October.
International Summer Dance Showcase
Tickets for the International Summer Dance Showcase go on sale June 25 ($15). Additional information can be obtained by contacting the Pittsburgh Playhouse box office at 412-392-8000 or online.