more news
SAEM and Dance Programs Help 2015 Alumna Land Role as a Company Dancer
Tuesday, December 1, 2015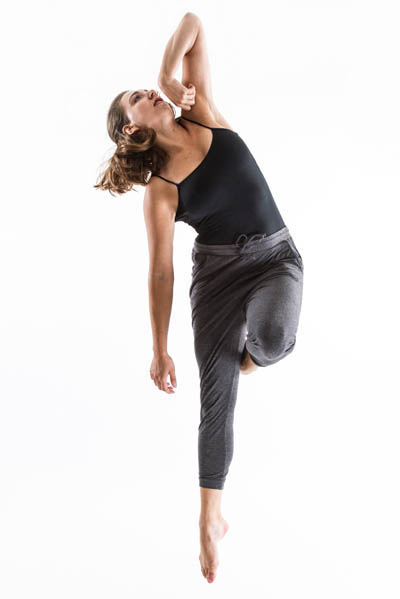 Photo courtesy of MamLuft&Co. Dance
Meet Christina Cairns
Job title: Company Dancer
Employer: MamLuft&Co. Dance
Degrees earned: B.A. in Dance and B.S. in Sports, Arts and Entertainment Management
Graduated: May 2015
College activities: Member of United Student Government, general management intern for Attack Theatre and Jeep Brand marketing intern for Chrysler
Scholarships from Point Park: Artistic Achievement and Dean's Academic Freshmen
Hometown: Farmington Hills, Mich.
High school: North Farmington High School
Now living in: Cincinnati, Ohio
Hobbies/interests: Dance, hockey, Jeeps, sleeping and spending time with family and friends
LinkedIn: Christina Cairns
How did you become a company member of MamLuft&Co. Dance?
I auditioned for MamLuft&Co. at their summer modern dance intensive in June of 2015. We danced from 8 a.m. to 5 p.m. for one week with classes including modern, ballet, partnering, repertory and master classes. I had signed up to be considered for their company so the whole week I wore a number on my stomach. On the last day of the intensive, they pulled me aside and asked me if I would like to be a part of their company for their 2015-2016 season. After discussing this with my parents, I accepted their offer and moved to Cincinnati a month later.
Tell us about the work you do as a company member.
We rehearse every Monday through Thursday night for four hours. This includes a warm-up class and then creating choreography for new pieces along with running old pieces. We have shows every couple of months in Cincinnati for the public and also just went on tour and performed in Richmond, Va., for a dance festival. In addition to dancing, other job responsibilities include interacting with audience members, board members and donors at events.
Why did you choose Point Park?
I chose Point Park because of their dance program. I auditioned and was accepted with the Artistic Achievement and Dean's Academic Freshmen scholarships. The campus was also only four hours from my hometown and is known for having a great dance program so it seemed like a smart decision. It wasn't until I came to Point Park that I decided to also major in sports, arts and entertainment management. The SAEM program piqued my interest and meeting with the professors definitely helped me make the decision as well.
Describe the intensity of Point Park's dance program and the hands-on learning style of the SAEM major.
I believe that the dance program was as intense as I made it for myself. I was a B.A. dance student, which is less demanding than a B.F.A. dance student, but this allowed me to double major and have a job. Along with the credits for my B.A., I made sure to take extra dance classes when I had spare time in my schedule. This usually meant I was taking 24 credits a semester. As a dance student, I had rehearsals several nights a week and on weekends which added to the intensity of the program. I am glad I had the chance to dance so much though.
One of the best parts of the SAEM program is that students are required to do an internship to graduate. My internships were where I learned the most about the business. I interned one summer for a modern dance company called Attack Theatre in Pittsburgh. The following summer, I interned for Chrysler in their Jeep Brand Marketing Department in Michigan.

Those two summers were absolutely amazing and I learned so much more about what I want to do with my business degree. Beyond that, the SAEM program was great because all of the professors have had experience in the sports, arts or entertainment industries. They each gave relevant projects that usually included presentations so I could develop my public speaking skills. Overall, dance and SAEM were both great programs that left me feeling prepared and ready to graduate.
How has double majoring in dance and SAEM helped you succeed?
By double majoring, I have opened up so many different opportunities for myself. I am so happy that I am dancing now professionally and I hope I do this for several more years. However, a dance career can sometimes end quickly due to an injury or many other reasons. I now have a back-up career in the business industry, which I enjoy very much and plan to use eventually.

Also, graduating with two majors in four years makes me more marketable and sets me apart from the normal crowd trying to get jobs in the business world. Hopefully, when I am looking for a full-time job in business I will be able to get one easily! Other skills I had to master in order to handle being a double major were time management, organization and learning to ask for help. With 24 credits, a couple jobs, and rehearsals, I really had to learn how to handle everything. It was great to go through this in college because now in the real world I can handle everything with ease.
Is there anything else you'd like to add?
The best advice I can give to students is to go for whatever you want. Many people told me that double majoring in four years would be extremely difficult and pretty much impossible. I proved all of them wrong by doing it and even though it was a lot of work, it was definitely worth it. Also, make sure to enjoy college. Once it's over, you will miss it.
More About: Rowland School of Business, scholarships, alumni, dance, Conservatory of Performing Arts, United Student Government, success story