more news
SAEM Professor Co-Chairs Marketing Management Association Conference
Wednesday, September 27, 2017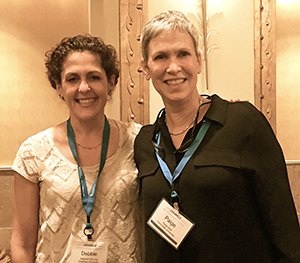 Co-chairs Deborah Delong, Ph.D., associate professor
of marketing at Chatham University and Paige Beal
Paige Beal, M.B.A., assistant professor and chair of the sports, arts and entertainment management department at Point Park University, co-chaired the Marketing Management Association Fall Educators' Conference, Sept. 20-22 at the Omni William Penn Hotel in Downtown Pittsburgh.
More than 200 marketing professors from across North America shared their research at the conference, which focused on "Hot Topics within Marketing Education."
"The dominate theme of the conference was digital - which was a perfect topic since I am in the process of building a multidisciplinary digital marketing minor," Beal said.
The new digital marketing minor will include three new classes offered in Point Park University's Rowland School of Business and School of Communication.
More About: School of Communication, sports, arts and entertainment management, faculty, Downtown Pittsburgh, Rowland School of Business, faculty research