more news
SAEM Students and Alumni Work at Beyoncé Concert
Friday, June 3, 2016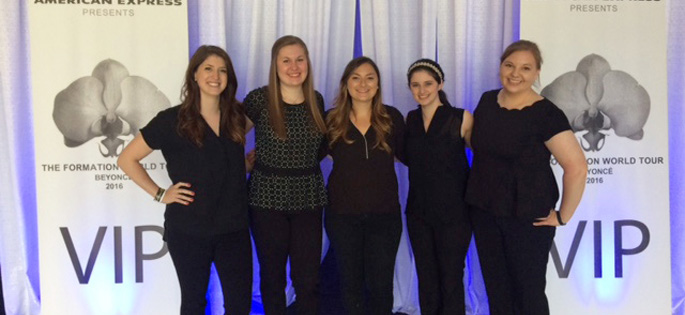 L to R: Ashley Dobransky, Caitlin Leasure, Ericka Thomas, Amber Flevaris and Madison Lescallette. Not
pictured: Nicolette Jones and Evan Pearson
Seven sports, arts and entertainment management students and alumni had the opportunity to work in VIP services, production running and floor seating at Beyoncé's The Formation World Tour May 31 at Heinz Field in Pittsburgh.
"We had a great time! It was a fantastic experience to work on such a high profile tour. It was all thanks to Part-Time SAEM Professor Jason Varnish, who had a contact with the production team," remarked Ashley Dobransky, SAEM alumna, M.B.A. student and assistant to the chair of the Department of Management in the University's School of Business.
Varnish is also owner/consultant of BOM Advisers, a box office management company of managers, supervisors and event staff whose expertise in event management includes ticketing as well as operations, marketing and social media.

"The VIP staff members for Beyoncé's tour were very kind and easy to work with which made for a great experience," said Ericka Thomas, junior SAEM major. "Also, my SAEM classes taught me the importance of maintaining professionalism when working for an artist that I'm a fan of."
SAEM senior Nicolette Jones, who is an entertainment marketing intern for Heinz Field this summer, was involved with pre-show festivities and preparing the floor seats the day before the Beyoncé's concert.
"Being a part of the floor seat tagging allowed me to see some of the stage construction as well as the back-end operations in ticketing. My Box Office Management course, taught by Jason Varnish, and my Business of Concert Production and Touring class, taught by Ed Traversari, really prepared me for this event. I was able to not only understand what was happening on stage, but I also could follow along with a lot of the terminology being used," explained Jones.
Jones added: "I hope to continue in the entertainment career path and end work in marketing for a major record label or venue, or in the production end of performances."
More About: sports, arts and entertainment management, Pittsburgh, internships, Rowland School of Business, Heinz Field, alumni