more news
SAEM Students Studying Live Entertainment Produce Nevada Color Concert at Stage AE
Tuesday, December 12, 2017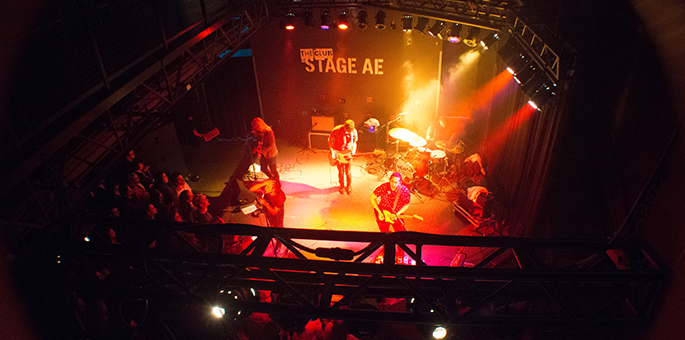 Students taking the Live Entertainment class this semester with SAEM Associate Professor Ed Traversari, M.B.A., didn't just talk about live shows in class — they actually had the opportunity to produce one at Stage AE.
Leading up to the Dec. 1 concert featuring Point Park University alumni band Nevada Color, with special guests Milly and Kahone Concept, Traversari's classes were given various assignments in ticketing, marketing, promotion, artist contracts and more by Jeremy Olson, Stage AE's box office supervisor and a 2011 SAEM graduate.
"It's great for our students to get valuable experience both in the classroom and at the venue. It's even better when their direction is coming from SAEM alumni like Jeremy Olson and Bret Kunash, who work full time at Stage AE," Traversari said.
"We really got a hands-on look at everything from the preliminary booking process to the day-of-show responsibilities," said Kylie Koch, a senior SAEM student from Upper St. Clair High School in Pittsburgh.
"I learned a lot about the attention to detail that goes into every show," Koch added. "I couldn't have picked a better school for my specific career goals and to make connections in the industry."
Senior SAEM major Erik Peasland said: "I have worked as a production runner for Live Nation for the past two years so I've gained experience seeing what goes into putting on a large-scale production at an outdoor amphitheater. For me, the Nevada Color concert was a great new learning experience getting to see what goes into setting up for a more intimate show."
Peasland, a graduate of Kenmore East High School in Buffalo, N.Y., added: "The classes I've taken at Point Park, along with my three internships, have taught me a lot of new skills that will serve me really well professionally."
"The SAEM program has shown me all of the different opportunities and career paths that are available to me. The hands-on experiences we've had, including producing the Nevada Color show at Stage AE, have really added to my understanding of the entertainment industry," explained Jessica Ignasky, a junior SAEM major from Pittsburgh Creative and Performing Arts High School.
According to Traversari, the next concert to be produced by SAEM students will a CD release party in April for new Pioneer Records artist Gabe Reed.
Photos by Brandy Richey, junior multimedia major
More About: Pittsburgh CAPA, Pioneer Records, Stage AE, sports, arts and entertainment management, Upper St. Clair High School, Sports, Arts, Entertainment and Music Partnerships, Rowland School of Business