more news
Schneider Downs Panelists Discuss Accounting Career Paths with Students
Tuesday, May 5, 2015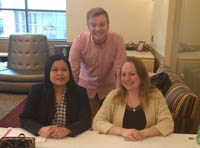 The Student Accounting Association, Alumni Relations, the School of Business and recent accounting graduate Chris Cerda hosted a networking panel event on campus featuring professionals from Schneider Downs, a top 60 certified public accounting and business advisory firm with offices in Pittsburgh and Columbus.
"The industry panel was extremely beneficial for students because it allowed them to investigate many different career options in accounting all in one location," said Amy Cesario, C.P.A., M.B.A., visiting assistant professor of accounting.
Students were given "day in the life" job descriptions on the many different career paths in accounting including internal audit, external audit, tax services, wealth management and business evaluations. Panelists also detailed the continuing education requirements needed for each position.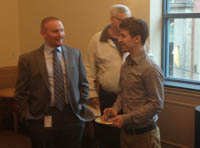 "The variety of different departments represented by Schneider Downs showed that there are a wide range of job opportunities within their company and the accounting field," remarked Amber Mole, a freshman accounting and business management double major.
In addition, an accountant from Bobby Rahl Automotive Group spoke with students about the type of accounting work he does.
"It was also a great opportunity for the students to do some networking with these experienced accounting professionals and speak with them one on one," added Cesario.
More About: accounting, business management, Student Accounting Association, student workshop