more news
Student Human Resource Association Hosts Panel Discussion on Social Media
Friday, December 2, 2016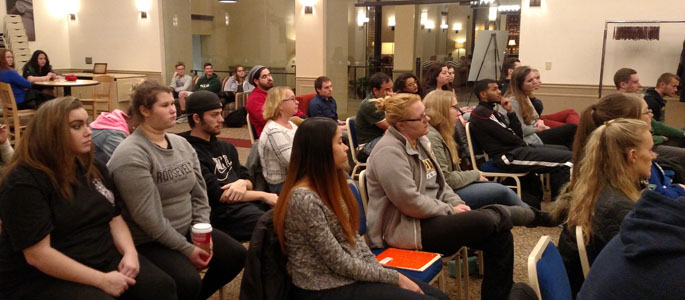 "Will this tweet get me fired?" was the headline of an HR and social media panel discussion Nov. 17 hosted by Point Park University's Student Human Resource Association, an affiliate of the Society for Human Resource Management.
Point Park human resource management majors and SHRA officers Olga Herrera, president, and Maricca Spencer, treasurer, moderated the panel discussion, which consisted of the following HR industry professionals: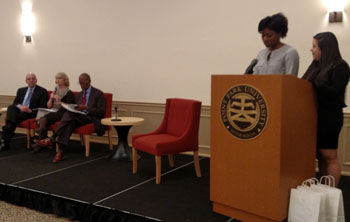 The panelists covered a variety of topics including workplace social media policies and practical applications, tips for Facebook and LinkedIn profiles, social media challenges employers face in the workplace, HR career advice and guidance on obtaining HR certifications.
"I really liked the advice Gena Sproul gave us regarding targeting specific positions when submitting applications. This event was a great opportunity to network and receive helpful advice toward becoming a better professional," remarked Spencer, a graduate of Penn Hills High School in Penn Hills, Pa.
Katherine Miller, a senior transfer HR management major from Steel Valley High School in Munhall, Pa., said: "HR is also always changing as people's needs, as well as laws and society, change. Attending this panel discussion allowed me the opportunity to see how HR professionals keep up with these changes."
"Before this discussion, I wasn't aware of just how easy it really is to use social media to investigate applicants and the impact it can have on hiring decisions," Miller added.
Additionally, HR professionals throughout the Pittsburgh region attended the event including Kate Barrett, human resources director for Urish Popeck & Co., LLC.
"I met Professor Sandra Mervosh at a Pittsburgh Human Resources Association event. We connected and had a detailed conversation about Point Park's HR management program. I was honored to receive an invitation to this panel discussion," Barrett said.
Barrett added: "Social media is a hot topic in HR with many different aspects that pose challenges and ongoing issues that are continuously evolving."
Spencer plans to use her HR management skills to become a recruiter or admissions counselor.
"I want to gain a competitive advantage and begin my HR career while still in school," she said. "In the future, I want to work my way up to an executive role in the admissions department at a university or as a senior level recruiter at a staffing firm," Spencer said.
Miller wants to explore all aspects of the HR field and remarked: "My career goal is to become as well rounded of an HR professional as possible. Point Park's HR program has helped immensely with this."
Learn More
Learn more about the human resource management major in the School of Business at Point Park University. Request information, schedule a campus visit or apply online.
More About: student workshop, Penn Hills High School, human resource management, Rowland School of Business, Steel Valley School District