more news
Students Sharpen Sales Skills in RNMKRS Virtual Sales Competition
Wednesday, March 3, 2021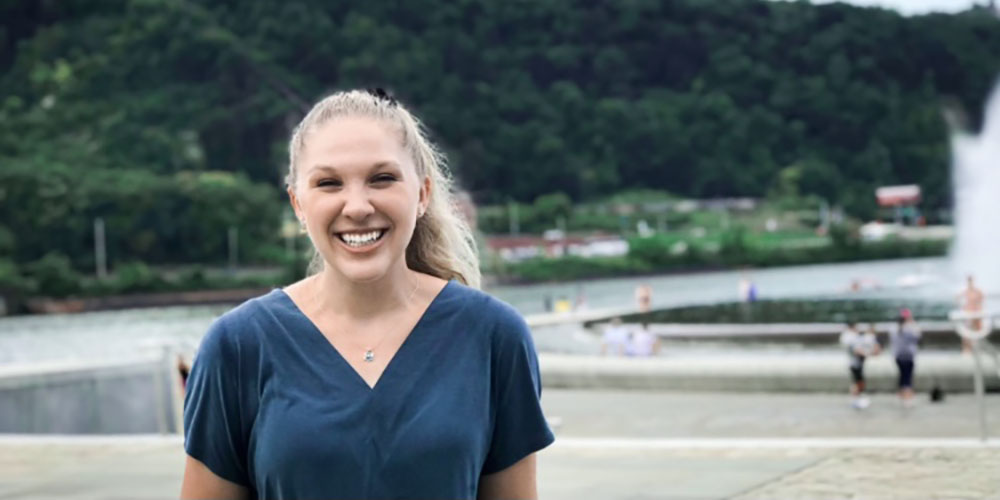 Student Logan Garvey placed in the top 5% of the nearly 2,200 student competitors in the fall 2020 RNMKRS Virtual Sales Competition.
Students in two sections of Principles of Marketing and a section of Professional Selling enhanced their selling skills and experience with artificial intelligence technology by competing in the fall 2020 RNMKRS Virtual Sales Competition. In RNMKRS, students practice and demonstrate the sales process through a virtual sales call and interact with a chatbot as the prospective buyer.
Student Logan Garvey placed in the top 5% of the nearly 2,200 student competitors. Students Karen Drew, Heather Omahne and Alexis Rys placed in the top 25%.
"This was Point Park's first time competing," said Dorene Ciletti, Ph.D., associate professor of marketing and sales. "It was a challenging and valuable experience according to many students, especially given that the interaction was not human interaction. As more organizations use bots for everything from live chats online to first round interviews, I was glad students had this opportunity."
"This competition is the kind of experience through which we want to encourage student participation because it promotes career-readiness," Ciletti said. "This is an exciting opportunity for our students to put into practice what they're learning in the classroom. Sales drives revenue. It's a critical organizational function."
Learn more about the students' experiences in the competition in the Q&A below.
Logan Garvey '22
Major: M.A. in media communication with a journalism concentration
Hometown: York, Pa.
High school: Susquehannock High School
Now living in: York, Pa.
Hobbies/interests: Dancing, hiking, decorating, traveling and hanging out with friends, family and our two dogs, Cooper and Cannoli
Dream job: Host on the Today Show
What did the competition entail?
Throughout the semester, we had the opportunity to practice for the sales competition with an employee from a local police department to sell them the Rugged Laptop from Dell Technologies. We acted as a sales representative and worked to learn about the company and how our laptop would fit the needs of their officers. After several months of learning and practice, we put our skills to the test in November when we had two days to go into the app and talk with the bot for a 15-minute timeslot to simulate a real sales meeting.
What was the most challenging aspect of the competition?
The AI technology definitely presented a learning curve, as we had to learn how to talk to a bot that had 3,000 responses, while learning about the sales process and Dell Technologies. With practice and attending exclusive sessions with Dell and the creators of RNMKRS, we were able to have a more thorough understanding of the best way to talk to a bot, especially since this is a part of technology that will only continue to grow in the future.
What do you like about the overall Point Park experience?
I will be an ambassador of Point Park for life! I love how the city truly is our campus. As much as we hear that phrase, it could not be more correct. It is so fun meeting friends from different campuses and at Point Park, and there is something for everyone in Pittsburgh, from Penguins games to some of the best food in the country to endless thrift stores. I loved my time living on campus in the Boulevard Apartments, even though it was cut short with the pandemic. The career counselors are some of the best, and I have to give a shout-out to Laura Dulaney because she made such a positive impact on my college career, helping me with finding jobs, fixing my resume and talking through what I would go to grad school for. The jobs I have held are so unique and well-rounded, and I credit so much of that to Point Park and its caring employees. I could go on and on about the positive impact Point Park has had on my professional and personal growth, and I will always be grateful that I attended this school.
Karen Drew '21
Major: Human resources management
Hometown: Turtle Creek, Pa.
High school: Woodland Hills High School
Now living in: Carnegie, Pa.
Hobbies/interests: Barbecuing, camping, kayaking, crochet, writing and reading
Dream job: HR generalist with a university or government agency
What skills proved most important in the competition?
This will sound strange to say about a computer, but I really leaned on the skills I learned about reading people. The bot was animated, so you could hear inflection in the bot's voice and see facial expressions and body language. If I was not getting through to the bot, I could tell. I could also tell if I said something it liked, and it helped me make quick decisions on which direction to take the sale. I also leaned a lot on active listening skills. Hearing what was important to the bot and demonstrating my understanding was so important to my success in the competition.
The Rowland School of Business offers a rigorous curriculum that truly prepares its students for the real business world. I got a jump-start on my business career before attending Point Park, and I have learned a lot of things in the classroom where I have been like, "Oh yeah, that's true. That really happens!"
In what ways has Point Park helped you gain experience outside of the classroom?
It is clear to me that Point Park is committed to providing experiential learning opportunities to its students. The RNMKRS Virtual Sales Competition is just one of many examples. Another example is my senior project. It involves contracting with a local company to develop and design a real-life HR program that it will implement later this year. Point Park faculty work tirelessly to connect students with leading organizations and professionals in their prospective fields. Professor Sandra Mervosh, M.S., SHRM-SCP, SPHR, is a testament to this. Through many of her initiatives, I have enjoyed one-on-one mentorships with experienced HR professionals and memberships to professional HR organizations, like PHRA and SHRM.
Heather Omahne '23
Major: Marketing and sales
Hometown: South Park, Pa.
High school: South Park High School
Now living in: Bethel Park, Pa.
Hobbies/interests: Retired yoga instructor, follower of the band Phish, my two cats and traveling 
Dream job: Selling targeted advertising for my company, AT&T, in the AT&T TV portfolio or working in the marketing channel for my current portfolio of Cricket Wireless
What did you learn from participating in the competition?
The contest and RNMKRS app really help with building skills needed in sales. I also learned that in the discovery phase, as you begin to understand customer needs, it is important to not only ask about what they want, but also ask about the negative consequences if the customer's needs are not met.
How did you find out about Point Park, and what drew you to your selected major?
I am from a Pittsburgh suburb and have known about Point Park from auditioning for International Summer Dance 1993. When I decided to go back to school in 2019, I looked at quite a few schools but liked that I could easily access Point Park's campus if needed. I selected Point Park because it offered fully online programs for working adults like me and because the online program offers a major for which my company will reimburse part of my tuition. Also, my major reflects a field in which I currently work and would like to develop further within Cricket or AT&T.
What advice do you have for prospective students?
I would tell students like me, who have a career and have had a lapse in completing their degree, that Point Park's online program makes it easy to adjust to returning to school. The instructors and professors are responsive and, in some instances, willing to help you tailor a class to your experience so that you are learning new skills while using existing skills as part of your classwork.
Alexis Rys '21
Major: Business management
Hometown: Pittsburgh, Pa.
High school: Weir High School
Now living in: Washington, Pa.
Hobbies/interests: Reading fictional novels, writing, watching movies, playing video games and keeping up with environmental conservation organizations, including the World Wildlife Fund
Dream job: Business owner and world traveler
What skills did you lean on during the competition?
Communication was definitely the most important skill for me to lean on. We had to communicate a lot of information and make sure that the conversation flowed smoothly throughout the entire competition. I also leaned on my listening skills. There is a point where a client might have objections or concerns about products or services that you're offering them, and it is important to listen so that you can address all their needs and questions, and hopefully close the sale.
How did your Point Park coursework and professors prepare you for the competition?
Professor Ciletti did an amazing job of preparing us for this competition. She assigned readings from our text that really focused on all the steps to a sales call. The most useful information that she provided were videos of past competitions and other sales call examples so that we could see what people look, sound and act like during the interaction.
What advice do you have for prospective students?
If you're looking for a place that is going to engage you and push you to learn and excel in your field, I highly recommend Point Park. If you're looking for a school that is going to open a world of opportunities for you in the business world, whether that be in management, marketing, human resources or sales, I highly recommend considering the Rowland School of Business.
Point Park has such amazing professors and advisors that really work with you and for you to make sure that you're always on track and working toward your goals. If you ever have an issue, question or concern, you can reach out to any of the professors or advisors, and they will be able to help you.
More About: success story, Rowland School of Business, faculty, business management, marketing and sales, accounting, M.A. in media communication, human resource management