more news
"Where Can We Go?" Public Restroom Study Provides Community Engagement Students with Hands-On Research Experience
Tuesday, September 13, 2022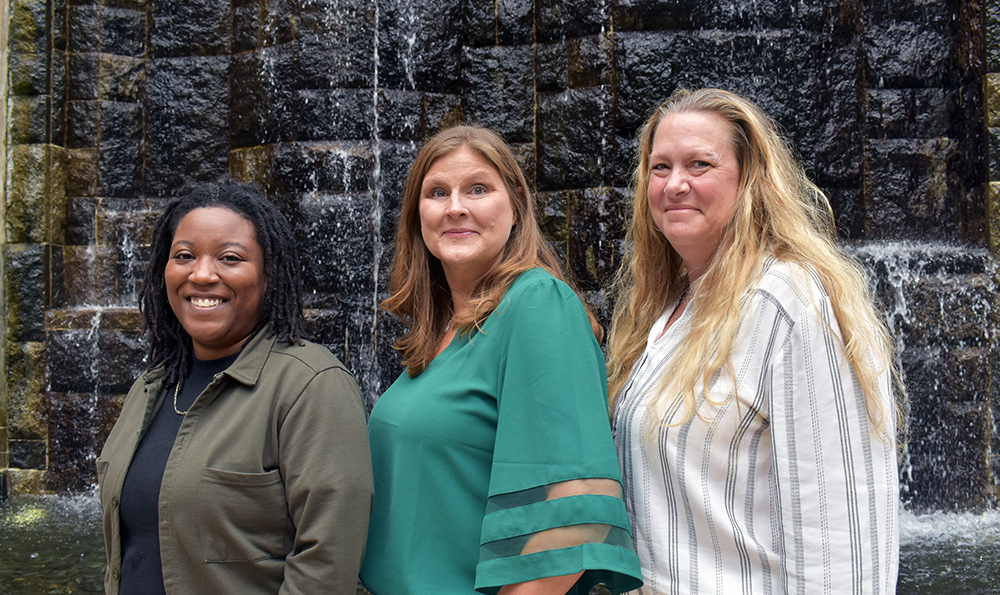 Pictured from left to right are Ashley Malachi, Heather Starr Fiedler and Judy Riegelnegg. Photo by Nicole Chynoweth.
When Ashley Malachi saw the course description for "Public Private Community Action Research," she was immediately drawn to the prospect of making a difference through a real-world research project.
Among its goals, Point Park University's Ph.D. in Community Engagement program seeks to prepare leaders for outreach and partnership work in civic, business and community organizations, and the course's cornerstone project embodied that mission. Ten students spent a semester researching the lack of access to public restrooms in the Golden Triangle region of Downtown Pittsburgh, presenting a robust report, "Where Can We Go?," to the Building Owners and Managers Association of Pittsburgh (BOMA) that outlined potential solutions and benefits of installing public restrooms throughout the heart of the city. BOMA, the City of Pittsburgh and the Pittsburgh Downtown Partnership are now engaging stakeholders for implementation. Read the students' report here.
"I am grateful for this experience and hope that I can do more to continue to help move the Golden Triangle community in the right direction in terms of basic needs, inclusivity and community engagement," Malachi said. "Being able to engage in the community during my time at Point Park so far has shown me that I am right where I need to be."
In the Q&A below, learn more about the project from Malachi, student Judy Riegelnegg, and Heather Starr Fiedler, Ph.D., chair of the Department of Community Engagement & Leadership.
Describe the work that went into completing this study.
Malachi: The process was insightful and engaging. We worked as a class on compiling actionable information, and we had to provide all the relevant qualitative and quantitative secondary research available to us and provide our own primary research. The secondary research aspect of the project was very individualized for each student so that we could get an in-depth understanding of what kind of information was already out there. Then we worked together on the primary research, conducting a focus group interview with stakeholders, intercept interviews with individuals in the community and one-on-on interviews with other stakeholders. The data we collected informed our report, and our eyes were opened to an issue that exists here in Pittsburgh and beyond.
What aspects of the study did you enjoy most?
Malachi: I most enjoyed conducting the intercept interviews. Being able to speak with different people about an issue that affects us all helped to bring insights that we may not have considered otherwise. I learned that even though we are all affected by the lack of public restrooms available, we are all affected in different ways, and that matters as well.
What was something that surprised you about this experience?
Fiedler: I was surprised that so many students signed up to take a summer class focused on studying restrooms. It's not exactly a fun topic, but everyone was so incredibly invested. I was also surprised just to hear how much of a conversation-starter this was. No matter who we talked to, everyone had a story about the need to use a restroom and difficulty finding one. It really is a universal basic human need and should not be something that we treat as a privilege.  
How does this study relate to the goals of the Department of Community Engagement & Leadership?
Fiedler: We seek to bridge the campus and community and to focus our work on nonprofit, government and civic work. We focus most of what we do on social issues and so this project really fit all of those goals. The ability to do both qualitative and quantitative research with community partners on a social issue is exactly the kind of experience we want our students to have, and the relationship with external community partners on these types of projects is what we hope to foster.
What are your key takeaways from this experience?
Riegelnegg: This was possibly the most valuable class I've taken in the Ph.D. program, which speaks volumes because so many courses have been essential to what we are learning. Because this was a true problem with multiple potential solutions, it was incredibly important that we ensured it was the highest quality work. The timeline was extremely short for a study of this magnitude, but by working together, we were able to focus on the sections we were individually responsible for and pull it all together as a team with an emphasis on communication and cooperative, shared work. Having the opportunity to work directly with relevant organizations creates an elevated sense of urgency and purpose. The study will now be shared with community partners who have the ability to implement our recommendations, and it appears the project is continuing to move just as quickly. This means that the work we did, while ambitious and demanding, has real-world applications that will positively impact our community's quality of life. I am so proud of the work we did, and so humbled that we will have had a hand in improving the lives of people spending time in Downtown Pittsburgh.
Why would you recommend Point Park's Ph.D. in Community Engagement?
Riegelnegg: It is a truly interdisciplinary program. While community engagement may often be perceived as moving primarily within the non-profit sector, Point Park offers opportunities to work with different departments and community partners, which allows us to see different ways we might support, reimagine, engage with and build community. 
More About: faculty research, Pittsburgh, Ph.D. in community engagement, community engagement, Rowland School of Business, success story, research, Downtown Pittsburgh