more news
2010 Alumna is Director of Marketing and Communications at Highmark Stadium
Tuesday, March 5, 2013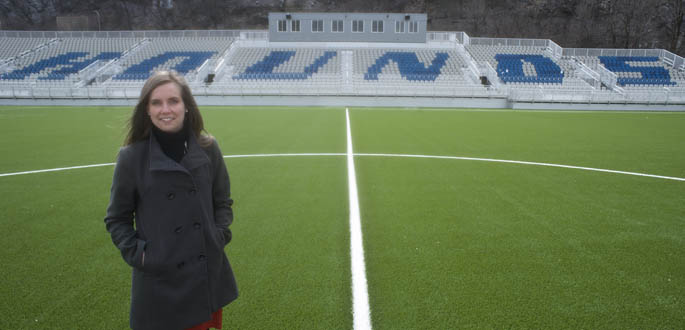 School of Communication alumna Angela Nelson returned to Point Park to give a presentation
on media strategy at Highmark Stadium.

Meet Angela Nelson
Job title: Director of Marketing and Communications at Highmark Stadium
Degree earned: B.A. in public relations and advertising, December 2010
Hometown: Meadville, Pa.
Now living in: Pittsburgh, Pa.
Hobbies/interests: Cooking, painting, biking, watching and playing sports (I was a member of Point Park's women's volleyball team)
High School: Meadville Area Senior High School
Why did you choose Point Park for your bachelor's degree?
When I visited Point Park for the first time, I instantly fell in love with the urban environment and all of the opportunities the University has to offer to students. The combination of hands-on education as well as the ability to connect with current business professionals who work in Downtown Pittsburgh was really intriguing to my educational goals.
What was your key message to students during your recent visit to campus?
My key message for students was to take advantage of all opportunities provided to them. While their first job may not be their dream job, it is important to work hard and utilize the skills they possess. Everything happens for a reason and you never know where your first job may lead you.
What was the most beneficial experience at Point Park?
My most beneficial experience at Point Park was participating in the advertising competition during my junior year. Our campaign received third place amongst some of the top universities in the country.
How did you land your current job?
I obtained my position at Highmark Stadium through my previous job. When I graduated college, I began working as a marketing assistant at a local accounting firm that happened to be working on the business plan for Highmark Stadium. I was brought on to assist with the project in all areas, such as accounting, construction and marketing. I worked at the firm for less than two years when I was offered a full-time position at Highmark Stadium.
What is a typical day like at Highmark Stadium?
Every day brings on new opportunities for me in all areas of the business. I spend most of my days meeting with new clients and discussing ways to further expand the marketing efforts of Highmark Stadium.
What are your career goals?
I plan to continue to excel in my career in sports marketing and someday I hope to establish my own company.