more news
2012 Alumnus is Director of Broadcasting and Media Relations for Erie Otters Hockey
Monday, January 13, 2014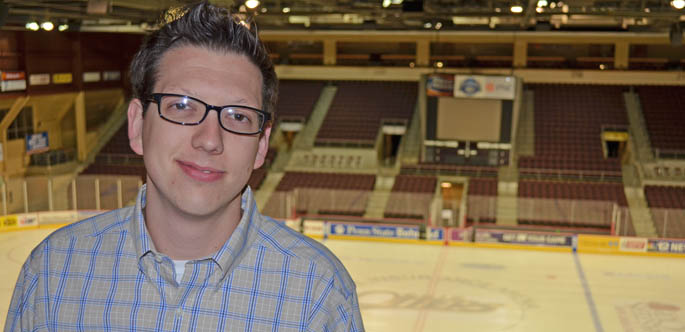 Meet Aaron Cooney
Job title: Director of broadcasting and media relations, Erie Otters Hockey Club
Degree earned: B.A. in broadcasting, 2012
College activities: Sports director of WPPJ and U-View, and an advisory board member for the Pittsburgh Center for Sports Media and Marketing
Internships held at Point Park: 93.7 The Fan and the Pittsburgh Penguins Radio Network
Hometown: Pittsburgh, Pa.
Now living in: Erie, Pa.
High School: Bethel Park High School
Why did you transfer to Point Park University?
Well, after figuring out that I wanted to pursue a career in sports broadcasting, I started looking for a school with a program that would offer me all the tools to become successful. My mom recommended that I look at Point Park, and the rest is pretty much history. I had heard good things about the programs at Point Park and how the faculty works closely with the students to help them achieve their goals. It seemed like the perfect place for me.
How did you land your current job at the Erie Otters Hockey Club?
After graduation I started looking for hockey teams that were filling their communication or broadcaster positions. I sent a bunch of emails out just asking teams if a position was available. I heard back from one, the Erie Otters. I sent in my resume and demo tape and just had to wait. The experience and references I built during my college career helped give me the edge over other applicants. Hard work and some good luck got me to Erie.
What are your key responsibilities at your job?
I serve as the play-by-play announcer for all Erie Otters broadcasts. I manage the team's communications including social media and their website. I also act as the liaison between the team and all other media.
Why would you recommend Point Park's School of Communication?
I would recommend Point Park's School of Communication to future students because the school gives you all the tools you need to become what you want to be. The staff cares about you and wants to make sure you succeed. Having smaller class sizes helps the professors get to know you personally and in turn they help you achieve your goals. The facilities students can work in allow them to become what they want to be. The television and radio stations are top notch - if students put in the work, there is nothing they can't become.
Anything else you would like to add?
If I had anything else to say to students, it's to try everything. I went into school wanting to be on TV but I found a love for radio. Keep your mind open and give things a chance, that's what college is all about. Do as many internships as you can and don't just be some coffee grabbing intern. Ask questions, learn, network and get as much as you can get out of your experience.
More About: success story, broadcast reporting, alumni, U-View, WPPJ, Center for Sports Media and Marketing, Pittsburgh Penguins