more news
2013 Alumna Celina Pompeani is the TV Host for the Pittsburgh Penguins
Thursday, December 18, 2014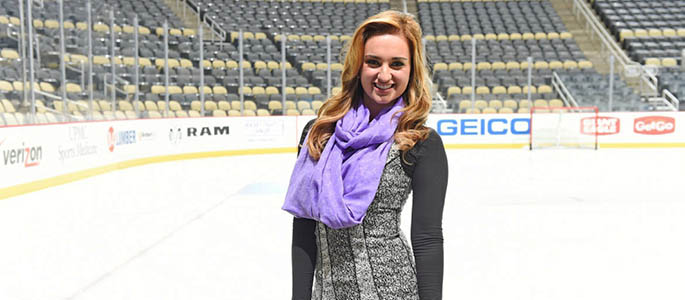 Meet Celina Pompeani
Degree earned: B.A. in Broadcasting, December 2013
Job title and employer: TV host, Pittsburgh Penguins
Hometown: Pittsburgh, Pa.
Now living in: Pittsburgh, Pa.
High School: Bishop Canevin
College activities: National Broadcasting Society, U-View and WPPJ
Hobbies/interests: Dancing, going to the movies, traveling and trying out new restaurants with family and friends (I am a major foodie).
Twitter: @CelinaPompeani
LinkedIn: Celina Pompeani
Why did you choose to attend Point Park for your major?
My sister and my dad both attended Point Park because of the excellent broadcast journalism program, which is what sparked my interest in going to Point Park. (More: Pompeanis Make Point Park, Broadcasting a Tradition).
How has your degree helped prepare you for your career?
It helped me land my first job as a reporter and weekend news anchor at WTOV-TV when I was still only a junior in college. It also prepared me for my current job by teaching me how to write in broadcast style, how to conduct a proper interview, and all of my abilities on camera.
What was it like going to school in Downtown Pittsburgh?
Going to school in Downtown Pittsburgh was an amazing experience. I loved living in the city and being surrounded by so many great restaurants and shops.
Describe the School of Communication faculty.
I loved every single one of my professors in the School of Communication at Point Park. I learned so much from them. They made me want to learn, always gave me great feedback and helped me land all of my internships.
What are your current job responsibilities?
I have a variety of responsibilities at my current job, including:
Report on the Pittsburgh Penguins out in the community;
Host the Game Day Reports before every game;
Host a weekly segment called Pens Trends;
Produce weekly foundation promos that air on Root Sports; and
Do appearances on the Jumbo Tron at games hosting different activities and interacting with the fans, when needed.
You can check out samples of my work online on the PensTV section of the Pen's website.
What key message do you have for prospective students?
Be willing to try everything and anything! Do as many internships and freelance jobs you can while you're still in school. Also always strive to be the best and be willing to work harder than anyone else, because broadcasting is a very competitive field.
More About: sports communication, internships, Downtown Pittsburgh, U-View, WPPJ, Pittsburgh Penguins, Broadcast Education Association, broadcast reporting