more news
2013 Alumna Celina Pompeani Wins Emmy
Tuesday, October 6, 2015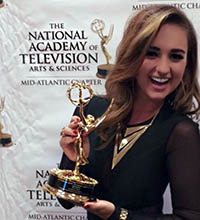 Less than two years after graduating from Point Park, alumna Celina Pompeani is an Emmy Award-winning host of Pens Trends, an online show that highlights what's trending with the Pittsburgh Penguins on social media.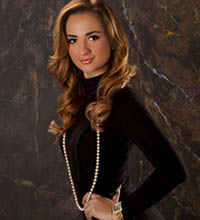 "My advice to Point Park students is to turn your dreams into reality. Whatever it is that you want to achieve in life, don't stop until you get there," she said. "Take extra classes, get involved in extracurricular activities, do internships and make important connections."

Pompeani, who earned a B.A. in broadcast reporting in December 2013, won a Mid-Atlantic Emmy Award in the Interactivity category at the National Academy of Television Arts and Sciences awards ceremony, Sept. 19, in Philadelphia, Pa.
At 23, she is one of the youngest in the Mid-Atlantic Chapter awarded an Emmy.
"Receiving an Emmy at such a young age, so early on in my career, is unreal," said Pompeani. "My Point Park education contributed to my success so much. I had top-of-the-line, hands-on professors who taught classes that catered exactly to my major. Plus, Point Park has incredible facilities and equipment for students to use."
Surrounded by television legends celebrating excellence in the industry, Pompeani said the key message she took away from the awards ceremony is that hard work pays off.
In addition to hosting Pens Trends, Pompeani reports on the Penguins, is the in-game arena host at all home games, produces weekly foundation promos and much more. Check out samples of her work on the PensTV section of the Pen's website and read more about her Point Park experience in her alumni profile.

Added Pompeani, "I also want to thank Rod Murray, executive producer, Meghan McManimon, creator and producer, Andi Perelman, manager of new media, and everyone else who contributed to Pens Trends throughout the season!"
Learn More
Check out Point Park's School of Communication, meet faculty and explore our facilities.
More About: sports communication, success story, alumni, broadcast reporting, internships, Pittsburgh Penguins