more news
2015 Alumna Caroline Collins is an Anchor and Reporter for WFMJ in Youngstown, Ohio
Tuesday, February 28, 2017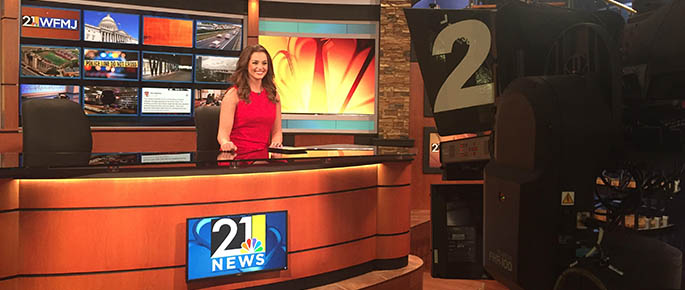 Since this story published, Caroline Collins is an anchor for KRIV-TV in Houston, Texas. She also completed an M.A. in Multimedia from Point Park University in 2019. 
---
Meet Caroline Collins
Job title: Anchor and Reporter
Employer: 21 WFMJ in Youngstown, Ohio
Degree earned: B.A. in Broadcast Reporting, 2015
College activities: Women's golf team and U-View
Internships: KDKA-TV and WKBN/WYTV
Scholarship: Athletic
Hometown/living in: West Middlesex, Pa.
High school: Kennedy Catholic High School
Hobbies and interests: Golf, yoga, discovering new restaurants, Pittsburgh sports and modeling
Follow Caroline on social media: Twitter | Facebook | LinkedIn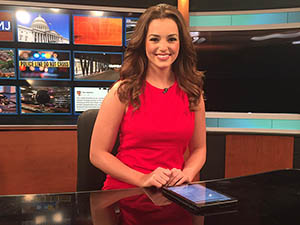 Tell us about your career path since you graduated in 2015.
Thanks to my knowledgeable professors and hands-on classes at Point Park University, I am living my dream! I am currently a television news anchor and reporter in my hometown viewing area, a station I grew up watching. Before this job, I was a reporter at WJET/WFXP in Erie, Pa.
I learned through my professors and internships during my time at Point Park that working in news was not an easy career. My job requires me to be a multitasker and a quick thinker at all times. I am constantly working under a tight deadline. I set up stories, drive to the scene, shoot video, write stories, report live from the scene, keep up with social media and anchor the newscasts every weekend.
What do you love most about your job and why?
Ever since I was young I knew I wanted to be a broadcast journalist. I enjoy my career more and more each day. My favorite part about my job is telling stories to thousands of viewers each night. The power I have through reporting news stories is chilling. Even though reporting on breaking news tragedies can be difficult, I have been able to help so many people by telling their stories. I love that I have the power to make a difference in the community by bringing forward pressing issues and informing others.
The highlight of my career so far was covering the presidential race. I had the opportunity to interview Vice President Mike Pence at his final solo campaign stop in Erie. I also covered President Trump's campaign rally in Geneva, Ohio, reporting alongside national media live from the rally, breaking down everything President Trump said in his speech.
What factors led you to pursue your undergraduate degree at Point Park?
In seventh grade, my mom took me an hour south for a dance audition. The audition happened to be in the heart and center of Downtown Pittsburgh at Point Park University. I was mesmerized by all of the tall buildings and the urban feel to the campus. When I came out of my audition, my mom said, "Caroline, they have a fantastic broadcasting program here, I think you should go to college here."
It was a short time later that the women's golf team started at Point Park. I was 14 and I knew I was destined for Point Park University. In high school I signed with Docherty Modeling Agency and was working out of Pittsburgh regularly modeling for national companies. I knew if I went to Point Park that I would receive an excellent education in broadcast journalism, possibly receive an athletic scholarship, and continue modeling. Sure enough, all of that happened! It was the best decision of my life.
When interviewing for your first job after graduation, what experiences at Point Park did you share to help set you apart from other candidates?
I felt extremely prepared at my first job interview. Thanks to my education at Point Park University, I was able to capitalize on the skills I learned throughout my four years. I knew how to shoot and edit video, I developed strong on-camera skills through my classes, I understood how all departments of a newsroom worked and I completed two news internships. I was familiar with broadcasting terminology and felt confident when I was put on the spot for an on-camera test as part of my interview.
In your opinion, what skills are hiring managers looking for in recent college graduates?
I think it's key for college students to gain as much experience as possible during their four years. Employers are looking for graduates with hands-on experience and internships in the field. If you want to be on camera, employers will want to see a broadcasting demo reel. A reel is a 10 minute video that can be uploaded to YouTube, with shots of you reporting and anchoring your campus newscast and clips from your internship, along with stories or news packages you have written, shot and edited.
What advice do you have for prospective students?
For all students considering Point Park University, you will learn from professors who have worked in the field, gain hands-on experience and have access to internships close to campus. The opportunities are endless!
Is there anything else you would like to add?
Point Park University offers a wide variety of classes and schedules to choose from, allowing me to model all throughout college. I've been featured on national advertisements for Dick's Sporting Goods, Golf Galaxy, Rue 21, Fisher Price, Jo- Ann Fabric, among others. I was featured in local television commercials, including Eyetique, Latrobe Ford and Chevrolet. Between golf team, modeling, internships, studying and other extracurricular activities, it was a busy four years, but some of the best of my life. I am now planning to apply to Point Park's online M.A. in Communication Technology program!
More About: U-View, internships, School of Communication, broadcast reporting, alumni, scholarships, success story, Downtown Pittsburgh, KDKA, online programs, athletics, M.A. in communication technology