more news
2015 Communication Alumnus James Hill is Special Assistant to Mayor William Peduto
Tuesday, February 9, 2016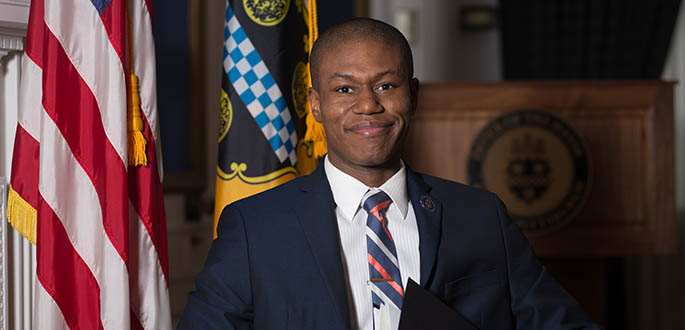 Meet James Hill
Job title: Special Assistant to the Mayor
Employer: Office of Mayor William Peduto, City of Pittsburgh
Degree earned: B.A. in Broadcast Reporting, 2015
Hometown/now living in: Pittsburgh, Pa.
High school: Schenley High School
College activity: U-View
Internships: The Office of Councilman Daniel Lavelle and WQED Multimedia
Hobbies/interests: Architecture, reading, Pittsburgh, history
Twitter: @JamesAustinHill
How did you get your job as special assistant to Mayor William Peduto?
When I realized I wanted to go into public service, the first place I went was to my councilman. One morning in between classes, I took a quick walk from campus to the City-County Building and sat in on a City Council Meeting. After the meeting, I approached Councilman Daniel Lavelle to ask him about internship opportunities. The next thing I knew I was spending three days a week helping out in City Council.

Being in the building so frequently was something I knew I had to take advantage of, so I'd go to as many events as I could. About two months in, I was asked to sit down for several interviews for a position that could be opening up in the Mayor's Office. The whole thing took place in a span of about four months, it was remarkable.
What are your job responsibilities?
A lot of what I do is dealing with people who communicate with the Mayor. Letters, emails, etc. However, I spend most of my time out in the community with him, at events, being there to try to keep everything on schedule, and to be there to field concerns from people we meet along the way. Additionally, I'm just a go-to guy. For instance, I'm helping to coordinate some of the events for the city's bicentennial this year.
What's it like working in Downtown Pittsburgh?
It's surreal; learning and living in Downtown Pittsburgh is one thing. To actually work here is another. It's an honor to work on Grant Street. I look out of our windows in the City-County Building and see the magnificent architecture that lines the street. I see buildings where so much history has taken place. Downtown Pittsburgh is truly the center of everything this city is. I love being able to be right in the center of the cultural, historic and economic points of this city.
What has been one of the most rewarding experiences in this role?
The most rewarding experience is watching how government changes lives and knowing that I'm making a difference. It's our job to make this city the best it can be for residents and visitors. I've witnessed immigrants become American citizens, met presidents, watched a mother who lost her son learn we're going to find a way to remember him; truly amazing things. And, not many people get to hang out with The Pirate Parrot.
How has your undergraduate degree prepared you for this role?
I have a degree in broadcasting, yet while I can occasionally be spotted at events on the news, I spend little time in front of a camera. However, I think my degree has prepared me well for a life around the political realm as well. The press and Mayor's Office work very closely. I see a member of our city's press every single day, so a dynamic understanding of the media is dynamically important in my role. I feel like we help each other out, I understand what they're looking for in shots and in stories.
Tell us about your Point Park experience.
My Point Park experience is truly memorable. The people I've met, the friends I've made and the teachers who had to put up with me (Gina Catanzarite, Robin Cecala, Paul Coatsworth and Dale Nodianos) made my experience. Learning from professors who truly care about you is the best experience any student could ask for.
What advice do you have for prospective students?
Don't be in a rush to get out. Enjoy and savor these moments because life only gets harder. You're going to grow up and do great things, don't be in such a rush to get there that you don't take advantage of what's going on around you. Take advantage of the city around you.
What are your career goals?
My career goal right now is to serve Pittsburgh and the Mayor to the best of my ability. The future? Who knows. Some day down the line I'd like to serve the city in an elected capacity.
More About: Downtown Pittsburgh, Pittsburgh Public Schools, broadcast reporting, internships, School of Communication, alumni, U-View, success story