more news
AIU Students Gain Hands-On Experience at Point Park during Spring Apprenticeship
Friday, May 8, 2015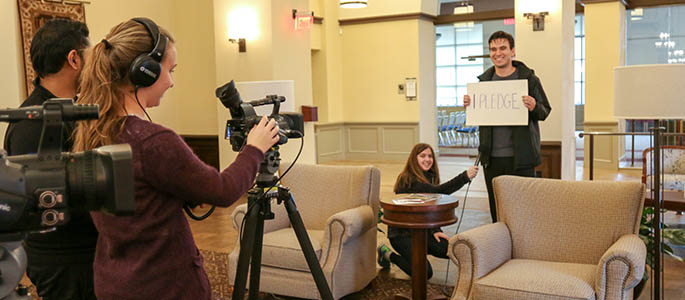 High school students film a public service video to promote the Give Wishes Wings campaign.
During the spring semester, 37 students from 22 high schools in the Allegheny Intermediate Unit's leadership gifted and talented apprenticeship program came to Point Park to explore careers in broadcasting and public relations and advertising.
"The thing that surprised me the most about this apprenticeship is that we weren't just handed a textbook. From day one, we were given real projects to work on, engaged in interactive discussion and got to use the equipment. It's been such an amazing experience," said Maddy Rice, a junior from Mt. Lebanon High School.
This semester, students had the unique opportunity to work with alumna Christina Praskovich (COMM '08), communications coordinator at Make-A-Wish, to create public service videos and posters to promote the Give Wishes Wings campaign. The objective of the campaign is to encourage people with unused airline miles to contribute them to Make-A-Wish to help finance the cost of free flights to make wishes come true.

Check out the student-created videos that are published on Make-A-Wish's YouTube channel: Any Wish | I Wish | I Pledge.
"This assignment was pretty challenging because it's hard to compress all of our ideas into 30 seconds. I've learned so much during this apprenticeship and it really has put me bounds ahead in my media class," said Luke Clements, a sophomore from Burgettstown High School.
"When I think about what makes a good communication student, it's somebody who is able to embrace a serious problem in our society, think about it, write about it, illustrate it and do things that tell stories. You've all captured the creative brief for Make-A-Wish perfectly," said Bob O'Gara, professor of public relations and advertising, to the students in this year's apprenticeship.

Other activities during the semester included visiting Brunner and WQED to meet with industry professionals.
"This apprenticeship was a great opportunity to get a taste of what it's like to be a college student. I think it's really cool that Point Park gives high school students the chance to come to campus and learn about their programs," said Sophie Church, a senior from Keystone Oaks High School.
Photos by Victoria A. Mikula, sophomore photojournalism major
More About: public relations and advertising, alumni, high school programs, broadcast reporting, Downtown Pittsburgh, journalism