more news
Alex Grubbs Covers Stories on Capitol Hill During Internship with Media Research Center
Thursday, July 21, 2016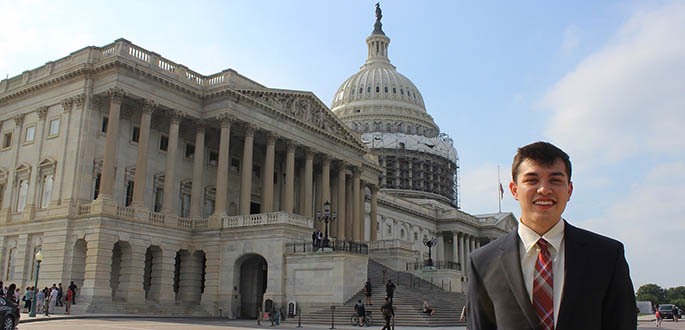 Meet Alex Grubbs
Major: Broadcast Reporting
Graduating: May 2018
Internship: Media Research Center's CNSNews.com in Washington, D.C. (through the National Journalism Center)
Hometown: Wilmerding, Pa.
High school: East Allegheny High School
College activities: U-View and The Globe
Hobbies/interests: Traveling, adventuring, kayaking, food, journalism, FIFA and the Pittsburgh Penguins
Scholarships from Point Park: Vice Presidential and the Marine Corps Scholarship Foundation
LinkedIn: Alex Grubbs
Twitter: @AlexAGrubbs
Favorite quote: "Real journalism is printing what someone else does not want printed. Everything else is public relations." - George Orwell
How did you land your internship?
I applied to the National Journalism Center through Young America's Foundation last December. I was accepted into their program in March and was placed at Media Research Center's CNSNews.com department in April. Their goals are to expose media bias.
What's a typical day like at your internship?
Working in journalism means every day is different. On Mondays, we have pitch meetings where I pitch at least three stories to work on during the week. I usually end up with more to write about. Then I'll transcribe radio shows for our commentary blog section.
Throughout the rest of the week, I either work in the Reston, Va. office or on Capitol Hill covering stories. I have credentials to get into the Capitol Building and all six Senate and House office buildings. I'll sit through congressional hearings and write stories on them. I also interview different congressmen depending on my assignment.
On Fridays, I have NJC classes, which are different every week. We hold mock pitch meetings, mock press conferences, listen to speakers from political-related fields and journalism, go on field trips, etc. We learn insight from different professionals as well as working on our writing and interviewing skills.
What have you enjoyed the most at this internship?
My two favorite parts of my internship thus far are the amazing people I've met, from reporters to fellow students, and working on Capitol Hill.
Working in D.C., you really connect with a variety of professionals in different fields. I've met more than 100 people since I got here in May, and I'm happy I've connected with them.
Also, as a young college student, working on Capitol Hill is one of the best opportunities. There are several stakeouts all across the Capitol Building. A stakeout is a place where journalists gather around in attempt to interview congressmen. I've had the opportunity to see Sen. Mitch McConnell and Sen. Harry Reid release public statements as well as meeting and interviewing congressmen from several different states.
What factors led you to pursue your undergraduate degree at Point Park?
I sort of knew since eighth grade that I would go to Point Park. I was split between journalism and pharmacy, but I realized I would enjoy my life more pursuing a journalism route. I went to High School Media Day at Point Park my freshman year of high school, and it clicked with me. I knew I could see myself going to this school. I also looked into the University of Virginia, University of Richmond and James Madison University. But I'm from the Pittsburgh region, so it was closer to home, and at the time, Point Park had so much more to offer.
Why would you recommend Point Park to a prospective student?
Point Park is one of the best schools to get an education if you're ready to work. The moment you walk in you're already immersed into hands-on experiences I feel you can't get as quickly at other schools. Not only will you have professors who are qualified in their respective fields, but also you will meet people who are as dedicated as you. I've learned so much in my two years so far, and I wouldn't be the person I am today without this school.
What are your career goals?
My long-term career goal is to work in network news covering world affairs and politics. It's a stretch, and it will come with hard work. There's so much to learn, and I want to keep my options open as I move up in my career. But I do want to start at the bottom and work my way up. I also want to serve as a bridge between the U.S. and foreign and/or third world countries through my line of work. I have the privilege to have a voice, and I can't let that go in vain. People love sports and others love entertainment, but I love hard news. We can't forget what really matters.
More About: broadcast reporting, The Globe, scholarships, internships, School of Communication, U-View