more news
Alumna and U.S. Field Marketing Manager for Reebok-CCM Hockey Hosts On-Campus Event
Tuesday, September 29, 2015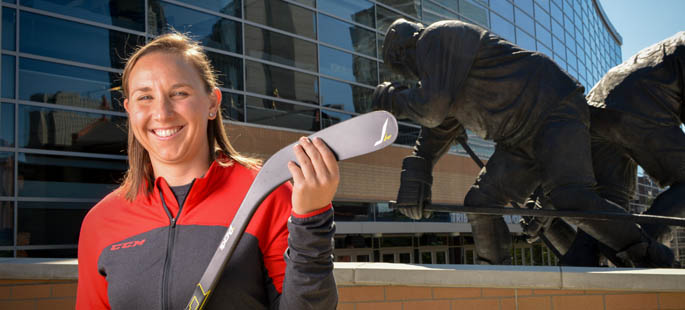 M.B.A. alumna Krystin Roczko spoke to students on Oct. 8 about her career at an on-campus workshop
Meet Krystin Roczko
Job title: U.S. Field Marketing Manager
Employer: Reebok-CCM Hockey, a subsidiary of Adidas Group
Degrees earned: M.B.A. with a concentration in sports, arts and entertainment management, Point Park University, 2008, and Bachelor of Arts in Journalism, La Roche College, 2004
Grad school activities: Community relations internship with the Pittsburgh Penguins
Hometown: Hampton Township, Pa.
High school: Hampton High School
Now living in: Shaler Township, Pa.
Honors and awards: Adidas Group 2014 Team Work Award and Adidas Group Marketing 2012 Representative of the Year
Hobbies/interests: Coaching, soccer, CrossFit and traveling
LinkedIn: Krystin Roczko
Why did you decide to pursue an M.B.A. concentrating in sports, arts and entertainment management?
Sports have always been a passion of mine. I knew that I wanted to work in the sports world in some capacity. The sports, arts and entertainment management concentration allowed me to gain as much knowledge in all areas of the business without limiting myself. Since I knew that I wasn't going to be happy with just the status quo, I wanted to continue to push myself. That is why the M.B.A. program was the perfect way to start my career.
What factors made you choose Point Park for grad school?
There were three main factors why Point Park was the right choice for me:
Alumni Network - A strong alumni network was essential for me. Knowing that colleagues and other accredited professionals within the sports world had earned M.B.A. degrees from Point Park was a major factor.
Course of study - Selecting a school that offered the course of study that was right for me was a must. The sports, arts and entertainment management concentration was the best fit for the direction I was looking to take my career.
Flexibility and Location - The course schedules and Downtown Pittsburgh location fit into my work/life routine.
Tell us about the work you do for CCM Hockey and how your M.B.A. classes have helped you.
I am currently working on the hockey side of the business where I manage all U.S. field marketing initiatives. This includes grassroots marketing programs, brand management, corporate sponsorships and athlete appearances. I was lucky to get the chance to take multiple courses in the M.B.A. program that not only prepared me for my current job but also provided exposure to all areas of business. This allowed me to gain a skill set that I can use for future senior management roles in business as well.
What was it like being asked to come back to Point Park to speak to students about your career?
Being asked to come back and speak to current students is a huge honor and very humbling. The idea that I am able to provide personal experiences and feedback that will help students is extremely satisfying. My hope is that they take away at least one piece of information or advice that will help them along their career path.
What are your career goals?
My goals are to keep evolving and adding to my skill set. I plan to continue to accept every challenge along the way and learn from each of those challenges. I want to remain open to any future possibilities. For me, the sky is the limit.
Is there anything else you'd like to add?
The Point Park M.B.A. program gave me the chance to refocus myself and gave me the skills I needed to advance my career. It truly prepared me for business challenges and opened me up to be more creative and think more clearly. Thanks, Point Park, for the opportunity to share my insights.
More About: Center for Sports Media and Marketing, success story, Pittsburgh Penguins