more news
Center for Sports Media Connects Point Park Students with Leading Sports Executives
Monday, October 19, 2015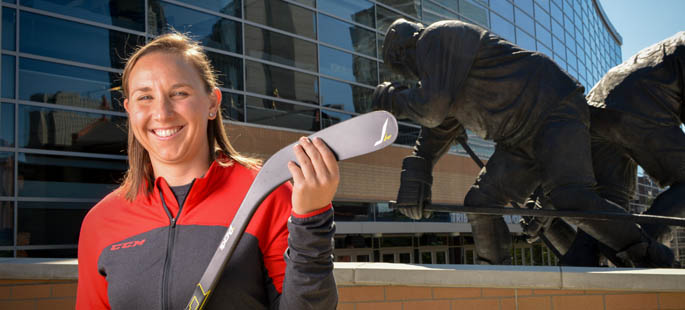 Pictured is M.B.A. alumna Krystin Roczko, U.S. field marketing manager for Reebok-CCM.

The Pittsburgh Center for Sports Media and Marketing kicked off the fall 2015 semester with an all-star lineup of events to connect Point Park students with leading sports executives, including: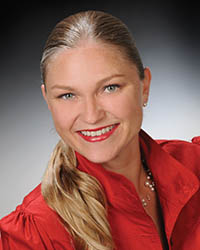 Leah Brown
Alan Mason, corporate vice president of local programming, Bright House Networks
"Being asked to return to Point Park and speak with current students was an extremely humbling experience," said Roczko, who spoke to students Oct. 8 about how to further accelerate product growth by increasing brand desirability. "I was truly honored to have the chance to share my experiences and provide students with advice that will help them in the future."
The center's events provide students the opportunity to hear from top industry professionals about best practices, and to make networking connections that can be vital to pursuing a career in the sports industry.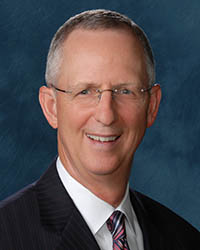 Alan Mason
"I love when professionals take time out of their busy schedules to talk to Point Park students. Their messages inspire us to work hard and pursue our dreams," said Brittany Bishop, a sophomore sports, arts and entertainment management major.
Bright House's Brown and Mason shared real-world insight on how to stand out when applying for an internship or a job during their campus visit, Sept. 17.
"When creating your resume, you have to present yourself well and in a memorable way," said Mason. "Present your qualifications, interests and passions with links and examples of your work. Those are the things we want to see."
Brown agreed, stressing the importance of being a team player.
"The most valuable interns or employees are team players who want to learn all the facets of the business," Brown said. "You don't have to be an expert in everything you learn, but find the person who is the expert and learn from them."
Blaine King, a junior broadcast reporting major, said the Center's events provide him useful and helpful tips for his career.
"I had the chance to meet Leah and Alan in person and it was great. They had a lot of in-depth information that will help me land a job in the broadcast field, especially their insight on what to include in a resume, demo reel and how to present yourself during an interview."
Added Roczko, "Don't be afraid to step out of your comfort zone and remember to always advocate for yourself in every instance. Hard work and dedication will pay off, but patience is almost always required as well. Nothing is ever out of reach if you believe that you can achieve it."
For information on upcoming events, follow the Pittsburgh Center for Sports Media and Marketing on Facebook and Twitter.
Learn More
Explore Point Park's undergraduate programs, meet our faculty or schedule a campus visit.
More About: sports, arts and entertainment management, Center for Sports Media and Marketing, M.B.A., alumni, Rowland School of Business, broadcast reporting